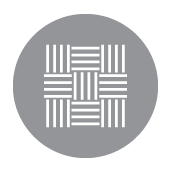 JOMAR Innovative ERP Advanced Textiles Software
…provides proven Textile Manufacturing Processes
Engineered and Performance Materials
Military Products
ERP Software for soft and hard
body armor, bullet proof vests,
parachutes and tents.
Camouflage Combat Uniforms
Fire Resistant Fabrics
ERP Software for firefighter
turnout gear, flame resistant
fabric for fire flash protection
and electric arc flash.
Aerospace and Advanced Composites
ERP, Mobile Workforce Management, Scheduling Resources,
Infrastructure Projects and Post Implementation
Site Maintenance Management.
Geotex and Geosynthetics Projects
ERP Software provides for quotations, manufacturing, fabrication, engineering specifications, a geo tests and test history, project scheduling and equipment/vehicle maintenance and post installation site maintenance management.
Automotive Interiors and Parts
ERP Software for Automotive Release Processing with third party EDI, tracking
inbound and outbound material requirements, scheduling, material authorization and
Just-in-Time shipping schedules.
Sports Products
ERP Software for protective equipment and pads for athletes, safety equipment
for extreme sports, hockey sticks, skates, tennis rackets, skis,
snowboards, surfboards and skateboards.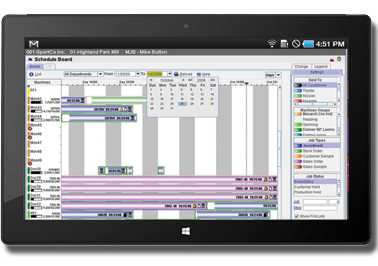 JOMAR Visual Schedule Board
…provides forward and backward scheduling for plant load levelling.
Schedulers link work orders and purchase orders to 'Inventory Availability' and work-in-process to provide real-time information for plant managers, machine scheduling, customer services, buyers and shippers.
JOMAR proven Textile Software Process are integrated with ERP to improve quality of
manufactured products and to reduce manufacturing costs
  • Fiber Manufacturing             • Spinning             • Warping             • Knitting             • Weaving             • Dyeing
• QC, Product and machine specs             • QC Test History by style, SKU, lot and fabric roll
• Fabric 'Quality Indicator' eliminates assignment of new SKU for each quality
• Coating             • Bonding             • Heat sealing       • Finishing             • Printing
• Roll tracking             • Roll cutting and slitting with traceability to parent roll
JOMAR Software for Logistics, Work Order Management,
Maintenance/Repairs and Financial Applicationsintegrated with ERP to improve Operations and Customer Services
• Customer Order Fulfilment             • Work Order Scheduling and Tracking
• Warehouse Inventory and Purchasing Management
• Material and Parts 'Allocation' to Work Orders
• Deallocation' due to delays or order cancellation
• Financials, GL, AR, AP, Financial Statement Generation,
Budgeting, Bank Services and Multi-currency
• Maintenance and Repair of machines and equipment
Complementary Software Functions
Workflow Management;  Data Collection;  RFID; Traceability from raw material to finished product;
Image/Document Processing with retrieval to append them to important legal and
accounting documents; and Dynamic Dashboards.
JOMAR advises our Customers on Cyber Security Strategy to reduce the risk
of Cyber Attacks to critical private information and company operations