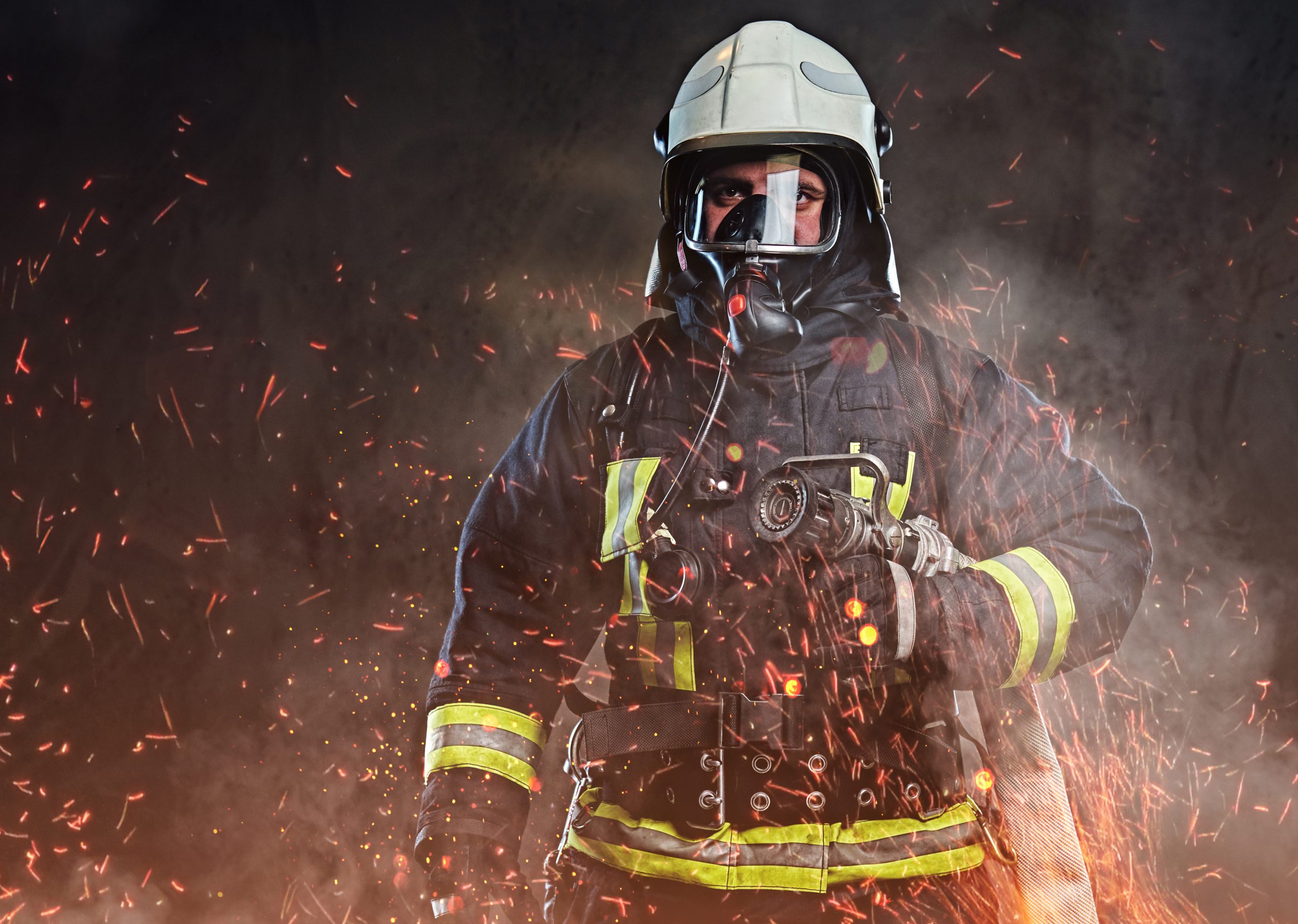 Advanced Textiles and Performance Materials
Innovative Adaptive
Built for the Cloud
 38 Years of Industry
Expertise and Focus

Industry Specific
Market Sectors We Serve
The JOMAR Advanced Textiles and Performance Materials ERP Solution supports a broad range of innovative Manufacturers and Distributors  that provide products and services to a diverse group of markets.  Many JOMAR clients are Industry leaders in the markets they serve.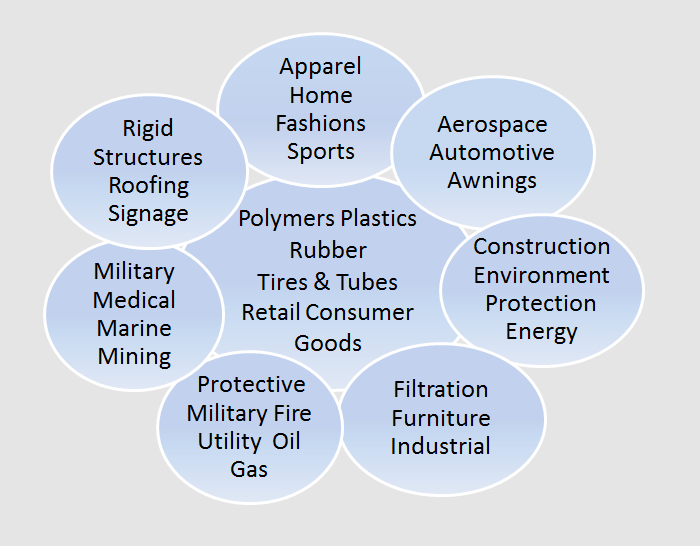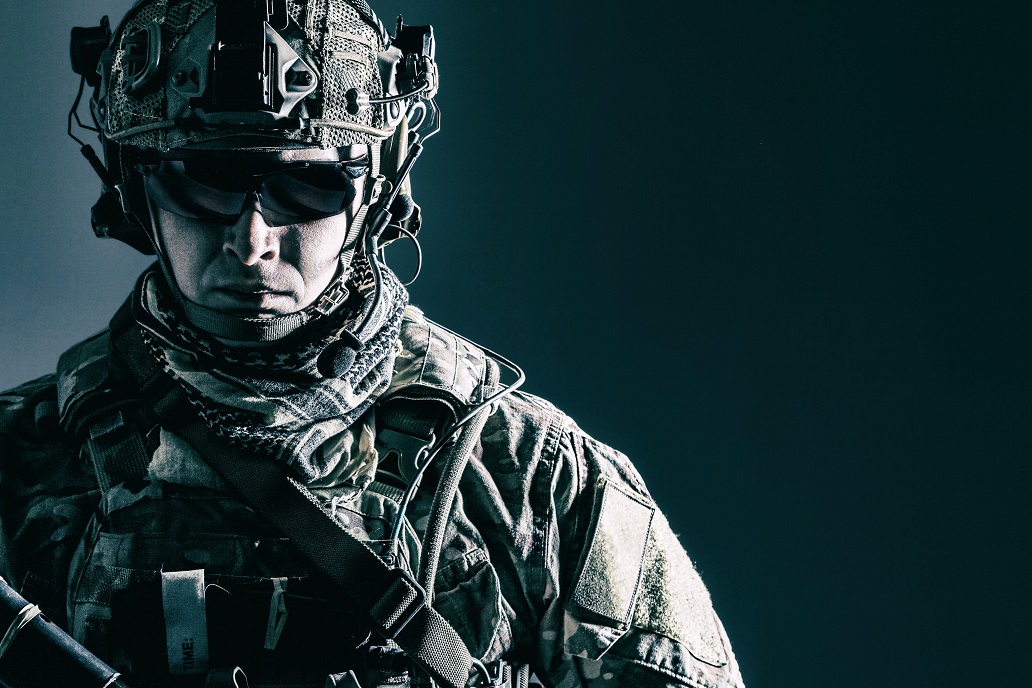 Advanced Textiles and Performance Materials Solutions
The JOMAR Advanced Textiles and Performance Materials System is a proven market leading application that covers the full scope of fiber to fabric to end product manufacturing and conversion processes required by manufacturers and distributors. The core Textile Specific Processes are Flexible and Configurable providing Manufacturers with the ability to Innovate and Adapt to meet the rapidly changing demands of their customers and markets.

Multi-plant Vertically Integrated Planning addresses the specific needs of Textile and Performance Materials manufacturers to plan and produce products across multiple business units often located in different geographical locations. Manufacturers can configure the unique Textile production sequence and flow of materials for any given product. The Multi-plant Vertical functionality supports the unique requirements of Textile producers to source, subcontract, convert and plan across Yarn, Greige and Finishing Operations.
Textile specific functionality supports Converters and their associated Commission Yarn, Fabric and Finishing Services for their end customers.
The system manages the full complexity of the flow of materials at the Roll, Quality and Lot Level as they move through all stages of manufacturing and distribution.  Full Forward and Backward Traceability of materials from raw material to end product is supported throughout the complex transformation in product identification that occurs as roll goods are batched, laminated , cut and slit to customer specific requirements.
Throughout this material flow Quality Assurance, Critical Testing and Performance results are all tracked and managed at the detail parent and child roll, quality and lot levels. The comprehensive centralized repository of Roll Testing and Performance Results can be analyzed and aggregated by product and design engineers to ensure that the company products meet the rigid standards of the Advanced Textiles and Performance Materials markets they serve.
The Demand for Advanced Technical Textile and Performance Materials is driven from a Multitude of Channels such as Automotive Releases, Internet Portals and Web based Customer driven eCommerce sites.
JOMAR core ERP cross industry functionality consolidates and fully integrates the Multi-Channel Demand Stream with all of the Customer Service, Purchasing, Outsourcing, Inventory, Manufacturing Planning, Tracking and Distribution applications ensuring Full Visibility across the Textile Enterprise.
The JOMAR Industry Specific ERP configurable manufacturing models are also incorporated into the Textile core functionality providing Manufacturers and Distributors with the ability to adapt their operations to produce and distribute products in any Mixed Mode Manufacturing Model scenario.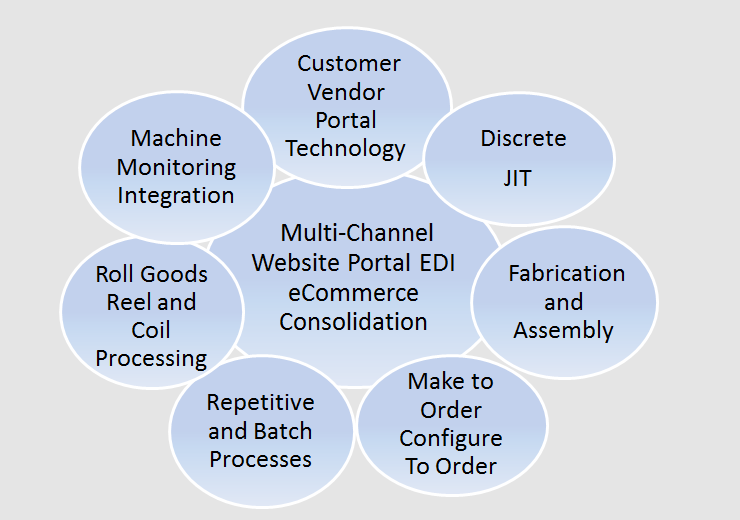 WHY JOMAR
JOMAR has 38 years of expertise from focusing on the Advanced Textiles and Performance Materials Industry. The company has consistently invested in technology and the development of flexible Textile Specific ERP Core Processes that can be configured as required by Manufacturers and Distributors to Adapt, Automate and Streamline the production and delivery of products and services to their markets.
The Textile Specific ERP functions have proven abilities to Scale cost effectively and support long term growth of Global as well as small and medium sized operations. The fully Managed Cloud Services now provide Textile manufacturers and distributors of all sizes with the ability to use the full scope of the JOMAR Advanced Textile applications on a modern secure technology platform on a monthly SaaS pricing model to capitalize on opportunities to grow their business domestically and expand their operations into foreign markets.
The JOMAR Advanced Textiles and Performance Materials solution provides our clients with the following benefits, advantages and success.
38 Years of Experience from focusing on the Textile Industry
Small and Medium sized Textile Operations are successfully growing their domestic and global markets using JOMAR in the Cloud
JOMAR has been implemented by some of the largest North American Vertically Integrated Global Textile Operations
Support for Unique Textile Custom and Specialty Fabrics, Commission Yarn, Dyeing, Greige Fabric, Finishing and Converter operations
Best Practices are provided across the full Advanced Textiles Application
Promotes Innovative thinking and change throughout the Organization
Flexible and Configurable Textile Specific Functionality
Adaptable Business processes drive the transformation to new Products, Markets and the implementation of new Manufacturing methods
A True Enterprise system that seamlessly integrates manufacturing for multiple Business Units and vertically integrated plants
Facilitates and speeds up the launch and implementation of new Products and Services
Simplifies the acquisition and merging of new Companies, Assets and Business Units
Scalable, Modern Current Technology Built for the Private and Public Cloud
Supports Low Cost Manufacturing Competitive objectives through modern design concepts, Configurable Business Rules and continuous adoption of new proven technology
Open Technology Framework supports integration of eCommerce and Virtual Markets
Startups to SME to Global Operation
The Advanced Textiles and Performance Materials application has been implemented across organizations of all sizes from Startups to SME and Global Multi-Site operations.     
The Textile Specific ERP functions have proven abilities to Scale cost effectively and support the increase in users and processing power as an organization expands. The functions can be activated as required to support the increased complexity of real time integration and connectivity requirements for growing companies such as:
Customer driven e-Commerce web portals and EDI
Vendor Portals for sourcing of raw materials
Subcontractor Services
Managing and tracking manufacturing across multiple facilities in different locations
Transferring finished goods to multiple distribution points for final shipment         
The system provides the ability to simplify and easily manage the Enterprise Entity setup and configurations as it transforms and adapts to the expansion of its existing operations, acquiring of new business units or merging of existing operations to streamline and reduce overall operating costs.
Textile Specific Functionality
JOMAR Innovative ERP Advanced Textiles Software provides proven Textile Manufacturing Processes from Fiber to Finished Fabric to Final Product. The following is a summary of some of the proven Textile specific functions implemented at small, medium sized and global multi-plant JOMAR clients:
Business Unit supports unlimited vertically integrated Plants
Plants support unlimited Warehouses
Automated Plant Transfer and Receipt Process
Subcontracting Services can be set up as Internal Operation or Separate Plant
Support for Commission Yarn, Dyeing, Weaving and Finishing Operations
Customer Owned Commission Roll Goods Processing
Support for Complex Product Configurations by Style, Pattern, Color, Size, Width
BOM Recipe and Formula Management
Product Detail Specifications by Activity, Machine, Customer and Vendor
Quality Control Testing Templates by Product, Activity, Machine, Customer, Vendor
Automatic Generation of Purchase Order for Services to Subcontractor
Purchasing Receipts by Roll, Quality and Lot
Auto Assignment of WIP Roll Goods to Transfer and Subcontractor Purchase Order
Configurable Rules for Assignment of Greige Rolls to Finishing Orders
Allocation and Tracking of Master Roll across multiple Work Orders and/or Sales Orders
Inspection and Defect Reporting by Roll
Auto Assignment of Finished Roll Production to Sales Order
Allocation of Rolls by Quality, Lot, Item and Customer Specific Characteristics
Inventory Availability by Roll, Quality and Lot across multi-plants and warehouses
Roll Goods Processing includes:

Imperial (Yards and Pounds) and Metric (Meters and Kilos)
User Defined Primary Unit of Measure

Batching unlimited number of Rolls of same Style into a single roll
Cutting support for multiple cuts of variable lengths to a single roll
Slitting of single roll into multiple panels of variable widths
Automatic Parent Roll update from Batching Cutting and Slitting processes
Traceability of Parent to Child Roll for Cutting, Slitting and Laminating
Quality and Lot Tracking by Roll
Item Roll Reclassification
Multiple Imperial and Metric Units of Measure by Roll
Ability to track complexity of Multiple Yarn Merges through processes such as Twisting
Laminating traceability for multiple Rolls with Different Substrates (Styles)
Quality Assurance Tests and Approval by Roll and Lot
Full Forward and Backward Traceability

Child Roll to Parent Finished Rolls
Finished Roll to Greige Roll and Warp Beam Yarn Merge
Warp Beam Lot to Specific Yarn Merge
Multiple Fiber Lots to Single Yarn Lot

Palletizing and Case Packing for Cut, Slit Rolls and Bulk Items
Barcode and RFID Tracking for Yarn Cases/Packages, Warp Beams, and Fabric Rolls through all material receipt, allocation, production, and shipping processes
Fiber to Yarn
The following illustrates examples of configurable production process flows through a core group of textile operations that can be set up within a single plant or a multi-plant vertically integrated operation to support the production of Synthetic Staple Fibers, Filament and Natural Yarns.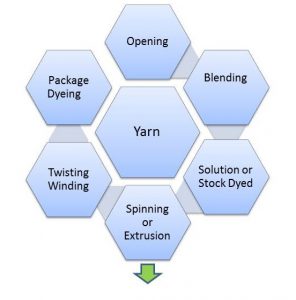 Ship to End Customer
Internal Material Issue to Greige Department
External Transfer to Third Party Greige Mill Sub-Contractor
Transfer to Company Owned Vertical Griege Mill
Staple Fibers and Filament Yarn 
JOMAR supports all activities required in the continuous polymerization process flow to create synthetic Staple Fibers and Filament Yarns. Polymer and carbon compound formulas are defined in the BOM/Recipe and Formula Management functions. Compounding Formulas define the natural, synthetic and/or inorganic (carbon, ceramic, glass) polymers that are linked to the specific sequence of activities, such as mixing, melting, wet or dry spinning, twisting, cutting, crimping and extrusion that are required to produce Staple Fibers and Filament Yarn. Critical data such as a spinneret die size to support extrusion processes are set-up in the product and machine specifications.

Natural Yarn

The production process for Natural Yarn is supported from management of Bale Inventory through scheduling and processing of laydown, opening, blending, stock dyeing, carding, roving and drawing of fiber for Spinning, Twisting or Winding.
Yarn is inventoried and tracked by merge, package size/put-up and case number.  Backward traceability is provided to the individual fiber bales, vendor and lots that were issued to create the yarn and staple fibers. Forward traceability to fabric rolls is provided in the knitting and weaving production control processes.
Fabric Production
The following illustrates examples of configurable production process flows through a core group of textile operations that can be set up within a single plant or a multi-plant vertically integrated operation to support the production of knitted or woven fabric.
Ship to End Customer
Internal Material Issue to Finishing Department
External Transfer to Third Party Finishing Mill Sub-Contractor
Transfer to Company Owned Vertical Finishing Plant
Warping
Case yarn can be issued in bulk or by package to individual Warpers/Beamers by Machine number. Critical data such as number of packages and package size is also provided to facilitate planning of Warping to support Warp Knitting, Weaving and ultimately Finishing.
Circular Knitting.
Product and Machine Specifications for machine set-up are available by Style, Pattern and type of machine.  Information such as number of feeds, knit width, and revolutions/piece can be included to support the scheduling of the knitting operations.
Warp Knitting.
Section beams are tracked by set number and beams are assigned to an individual Bar on the knitting machine.  Warps can be tracked by Style, Lot and Ends/Beam.  The BOM/Recipe, Machine and Product Specifications define the combination of yarns required for a specific Style. Knitted Rolls of various widths are tracked as they are slit into multiple rolls during the knitting process or as a single roll with the same Style and Pattern identity.
Weaving
Weaving production is supported by Loom exclusion rules that can be defined in the BOM/Recipe and Greige Fabric specifications to support scheduling of specific styles by loom types. Loom Schedules can be set-up by style, machine group and individual machine.
Bar Coded Fabric Roll Tags are created to uniquely identify each roll produced. This supports the subsequent inspection, fabrication processes such as cutting or slitting, allocation to a customer order for shipment or transfer to a finishing process or operation.
The system includes web services and API's to integrate with Shop Floor Data Collection systems, such as Loom Monitoring, to streamline and automate the tracking and recording of fabric production.
Backward traceability is provided to the yarn merges and lots using the warp beams which are assigned to looms and knitting machines. Forward traceability is supported as rolls are fabricated in cutting and slitting or processed through finishing.
Finishing Operations
The following illustrates examples of configurable production process flows through a core group of textile operations that can be set up within a single plant or a multi-plant vertically integrated operation to support the production in a finishing operation.
Ship to End Customer
Internal Material Issue to Cut & Sew Department
External Transfer to Third Party Cut & Sew Sub-Contractor
Transfer to Company Owned Cut & Sew Plant
The system supports the full scope of finishing processes required to manufacture all types of fabric and Non-Wovens. Finishing processes are user configurable and support activities such as dyeing, coating, impregnating, calendaring, extrusion, bonding, laminating, heat sealing, flocking, printing, cutting, slitting and inspection. Bar Coded Fabric Roll Tags are created to uniquely identify each roll produced.
Finishing processes include Roll and Lot Allocation, Product, Machine and Customer Specifications, Quality Assurance and Testing and automatic generation of Purchase Orders for services to subcontractors.
The BOM/Recipe and Formula Management functions are used to define Finishing Formulas (such as Dye and Sizing) that are integrated into Finishing Orders as they are released to production.  Rework processes can be configured to provide for products to be cycled back through specific activities to ensure compliance to Customer Specific specifications.
Backward traceability from finished rolls is provided through the allocation of greige rolls to finishing orders.  Forward traceability is provided as full, cut or slit rolls are allocated to final end product conversion processes.
Cut and Sew to End Product
The following illustartes examples of configurable production process flows through a core group of textile operations that can be set up within a single plant or a multi-plant vertically integrated operation to support a cut and sew facility.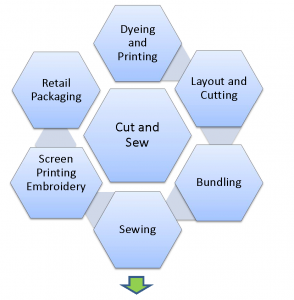 Ship to End Customer
Transfer to Third Party Warehouse
Transfer to Company Owned Regional or Central Warehouse

Printing
The Printing functionality includes the capability to track and control sets of screens in Inventory.  Screen history, usage (i.e. number of yards produced per screen), screens issued to print machine and location of the screen in Inventory are all tracked in the system. Print screens are fully integrated with the BOM/Recipe and Scheduling Logic to ensure that Orders with similar patterns can be grouped together to maximize efficiency at the printing operation.  The printing application can be implemented for an in-house printing department or an outside Commission Printing facility.

Cutting Schedule and Sewing
Release of cut orders generates a Cutting Schedule that is fully integrated with the Visual Schedule Board.  Operators can create, track and control spreads, marker allocation (including mixed markers) and track fabric utilization. Mixed markers can be managed to optimize cutting efficiency. The actual fabric consumption is recorded by spread which provides the data to calculate yield and efficiency. Individual spreads within a cut are tracked and controlled. Options are available for integration of automatic cutting center, CAD/CAM design and RFID.
Advanced Composites
The full range of core processes required to manufacture reinforced composite materials are supported. Aligning of fibers, filaments and fabrics, processing and layering of fabrics, impregnation and wetting using liquid matrix or resins, curing, cutting, sawing and slitting can be configured in any sequence required by product engineering.
Manufactured parts can be processed in multi stages allowing for curing cycles between repeated steps of fabric layering and resin/ or gelcoat application.  Product Detail specifications can be integrated with CNC and robotic equipment to automate processes such as the layering of fabric pre-pegs prior to curing.
Continuous flow processes can be configured to include resin formulas, die specification as required for forming of desired shape, roll put-up lengths, cutting, sawing and slitting to customer specific length and width. Formulations of liquid composite resins are integrated with Resin Transfer Molding detail product specifications including mold types, compression factors, temperature tolerances and curing cycle times.
All raw material types and substrates such as fiberglass, carbon fiber, quartz and polyester can be set-up inventoried and tracked at the Item, Roll, Lot and Quality level.  Quality Assurance and testing templates can be defined to monitor critical quality data of finished products such as compression and tensile strength, uniformity of thickness, fatigue and shrinkage. Test Templates can be configured to track results by Customer, Item, Roll, Lot and Quality.                 
Lamination
The unique requirements of Lamination and the processing, tracking and full forward/backward traceability of multiple substrates of roll goods are fully supported. The ability to configure Lamination, Polymer Compounding and Extrusion production processes addresses the specific needs of manufacturers that produce Thermoplastic Composites. Fabrication Cut and Slit functionality provides the ability to produce blanks of specific width and length that can be then loaded into Compression Molds to produce higher thickness continuous glass mat.
Manufacturing methods are configurable providing manufacturers with the ability to support a wide range of processes such as Flame and Adhesive Lamination.
Laminate substrates can be defined for any material type, such as polymeric, aluminum, paper and rubber. The system supports an unlimited number of laminate substrate combinations and multilayers required to produce a given product. Quality Assurance testing templates can be configured to support critical tolerances and measurements such as thickness, flexibility, fatigue and cracking.
Final Lamination processes can be configured such as coating, calendaring and printing providing the ability for manufacturers to convert laminated material into a wide variety of multilayer finished products of variable flexibility, rigidity and thickness.
Single to Multi-Plant Vertically Integrated Operations
Your content goes here. Edit or remove this text inline or in the module Content settings. You can also style every aspect of this content in the module Design settings and even apply custom CSS to this text in the module Advanced settings.
Digital Transformation
Digitizing of data, documents, internal and external communication to streamline, automate and eliminate manual processes is supported throughout all of the system functions. Customer Acknowledgments, Quotations, Packing Slips, Bill of Ladings and Invoices can be generated and archived for future reference or e-mail. Manufacturing support documentation such as engineering drawings, QA Test and Inspection results, Certificates of Analysis are also archived as required.  Documents, such as vendor invoices can be scanned into the system and attached to Vendor Accounts.
RF and RFID barcode scanning automates and streamlines process flows in Distribution, Warehousing, Inventory Management, Purchasing Receipts, Manufacturing Tracking and Reporting.  Work flow event triggers can be configured to automate communication with e-mail alerts and messages. 
Vendor and Sub-Contractor Portal
The JOMAR configurable Portal Technology connects vendors and sub- contractors to fully integrate the manufacturing and supply chain.  The Vendor Portal provides Manufacturers and Distributors with the ability to:
Onboard Vendors and Sub-Contractors quickly and efficiently
Issue and Monitor Bids and Request for Quotations
Review Purchase Order and Status of In-Transit Goods
Monitor Status of Sub-Contractor Work-In-Process
Issue Bar Coded Documents to Suppliers and Sub Contractors
Multi-Channel Demand Stream Consolidation
Customer Demand for products and services can come from a Multitude of Channels and media such as Automotive Releases, Internet Portals, online Web based Customer driven eCommerce sites and Retail EDI.
JOMAR ERP consolidates and fully integrates the full Multi-Channel Demand Stream with all of the Customer Service, Purchasing, Outsourcing, Inventory, Manufacturing Planning, Tracking and Distribution applications providing Full Visibility across the Enterprise.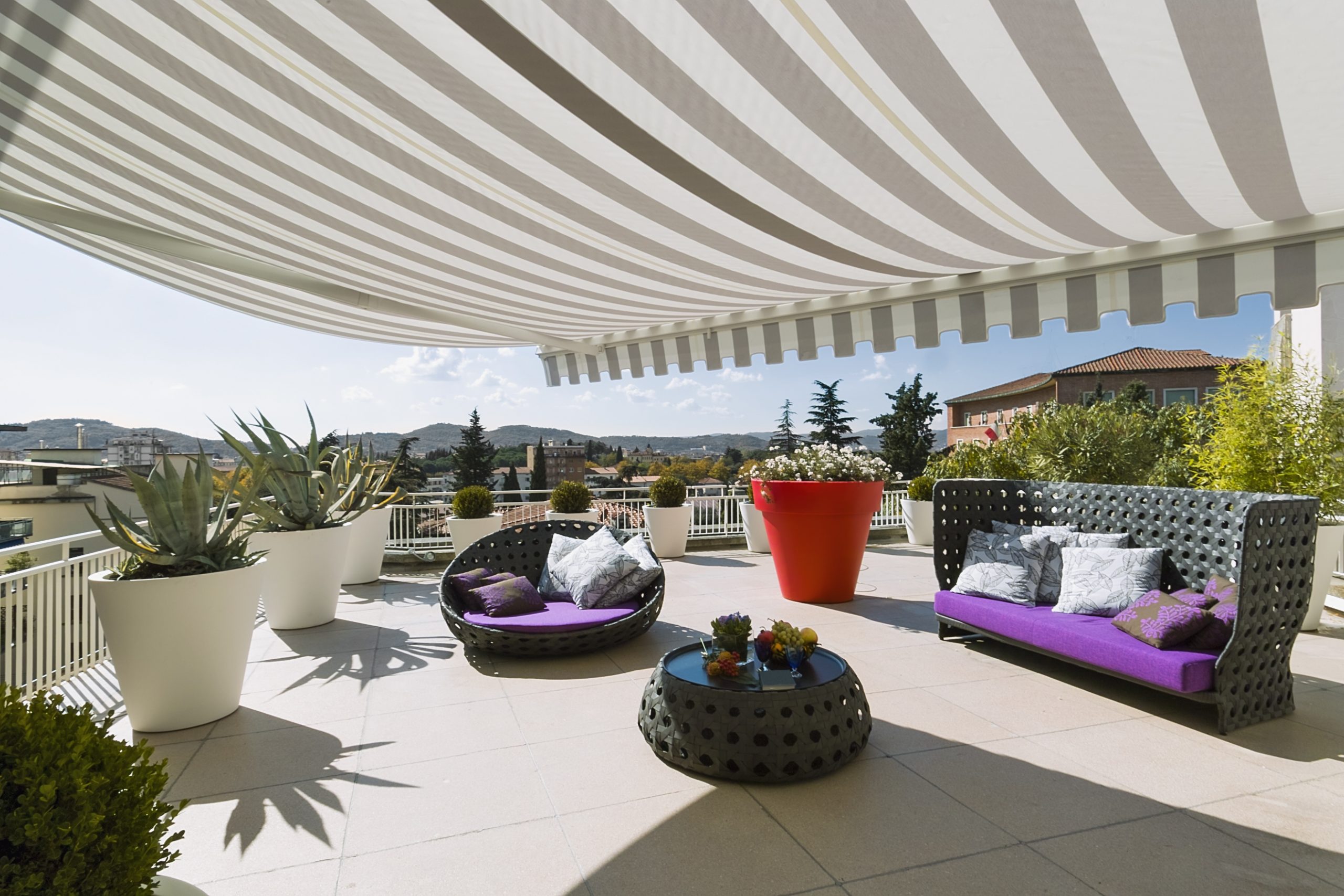 Advanced Textiles Manufacturing Overview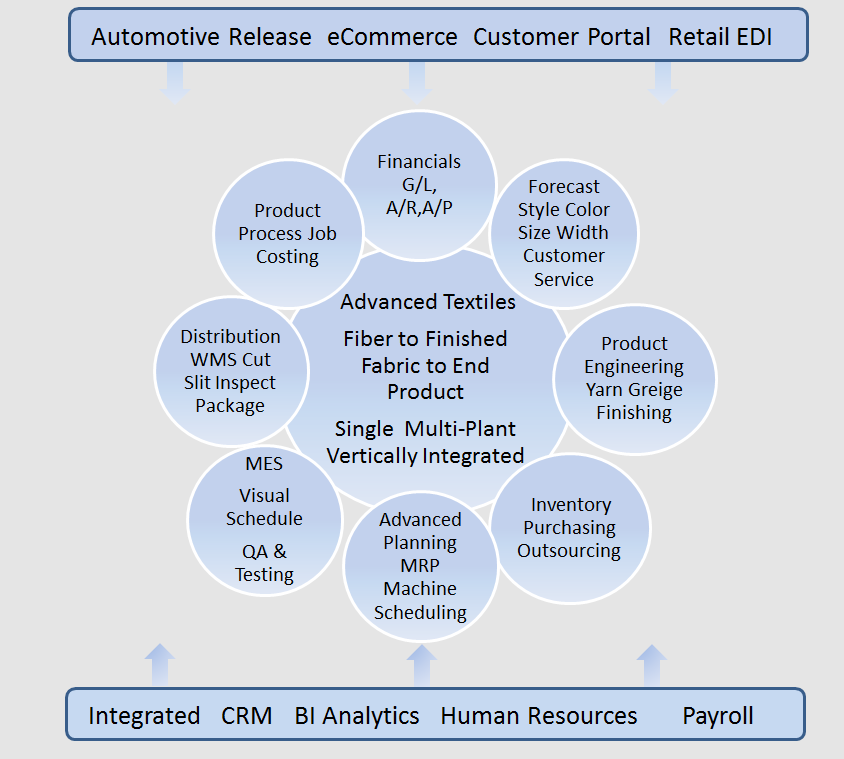 Product and Engineering Data Management
The Product and Engineering Data is comprised of design, development, engineering and machine specifications. PDM provides online access to images, sketches, drawings, bills of material, routings, machine specifications, engineering changes, recipes, formulas and Quality Assurance tests.  Test history is available by SKU, lot and roll.
Customer Service Hub
The Customer Service Hub provides CSR's with a comprehensive 360 degree view that covers full order visibility from quotation, order booking through manufacturing to distribution picking, packing, shipping and invoicing. Online real time Order Entry is fully integrated with, Inventory Availability, Manufacturing Orders, WIP, Purchasing, Subcontracting Services and Customer Credit. Allocation of Finished Goods to sales order detail lines is supported by Business Unit, Plant, Warehouse, Bin, SKU, Lot, Roll, Quality and Serial#.  Order status, shipment, Bills of Lading and Invoice History are all available online in real time providing CSR's with the ability to respond rapidly to Customer requests and inquiries.          
Purchasing and Outsourcing
Purchasing, Subcontracting Services and Outsourcing are fully integrated with Purchase Requisitions, Receiving, Vendor Invoicing, Inventory, Manufacturing Work Orders, Visual Schedule Board, Advanced Planning, Costing and Accounts Payable. The Manufacturing Order release process automatically generates Purchase Orders for activities flagged as sub-contracted or outsourced services. Receipt of goods from subcontracted services automatically triggers updates to manufacturing orders and scheduling.
Purchasing supports processing of all inventory item types, bulk, lot, roll and serialized. Item purchase costs for Capital Projects, Expenses Items and production materials are tracked and integrated with Costing and Financial Management.
Inventory Management
Inventory is processed online real time and can be configured to support single or multi-plant Business Unit operations. The system supports all inventory types including Raw Material, WIP, Finished Goods, Machinery Maintenance and Repair parts, Expense Items and Office Supplies. Item definitions are configurable based on user defined attributes and characteristics with multiple units of measure in metric or imperial and tracked by any combination of Bulk, Lot, Roll, Quality or Serial#.
Allocation and real time Availability is supported by any combination of Promise Date, Warehouse, Bin, Item, Lot, Roll, Quality and Serial# and fully integrated with Customer Orders, Distribution Releases, Purchasing, Advanced Planning, Manufacturing Execution and Visual Schedule Board.  Physical inventory can be processed 'wall to wall' or by cycle count.  RF and RFID barcoding and tracking is supported throughout all inventory management functions.
Mobile RF and RFID
RF and RFID with barcoding support is provided for Inventory, Purchasing, Manufacturing, Customer Service and Distribution. Manufacturing Orders, Material Issue and Labor Reporting Tickets are all barcoded to facilitate streamlined data collection and reporting through all stages of the production tracking and reporting process.
 Inventory Management utilizes RF and RFID processes for all transaction types and physical wall to wall and cycle counts. Customer Service documents, Purchase receipts and Distribution include barcoded functions to track receipts, warehouse transfers, fabrication, picking, packing and Bill of Lading documents.
Barcoded roll tags, case content labels and customer specific labels can be generated as required using standard off the shelf label generation software tools. Configurable templates are provided for all WMS transaction types that can be deployed on multiple industry standard handheld, forklift mounted and proximity scanners in the case of RFID.   
Advanced Planning
The Advanced Planning Master Production Schedule (MPS), Material Requirements and Rough-Cut Capacity Planning functions support single and Multi-plant vertically integrated operations. It is fully integrated with the Multi-Channel Demand Stream Consolidation process, Forecasting, Customer Service, Purchasing, Outsourcing, Inventory, Manufacturing Execution, Visual Schedule Board, Distribution Warehouses and Supply Chain.
The system provides the ability to group and preconfigure Enterprise Planning runs for multiple planning scenarios.
For example, a Global MRP run can be configured that creates a planning cycle across all plants and facilities operating within the Enterprise. The Global planning run generates all requirements and loads up all vertically integrated operations. It also includes any replenishment requirements for branch warehouse locations and Supply Chain partners.
Vertically integrated plants then have the ability to initiate multiple plant specific planning scenarios using the demand generated from the Global Run to optimize their response, react and meet the requirements of the vertical operations they are linked to and the overall Global Demand.              
Manufacturing Execution (MES)
MES is integrated with Advanced Planning and the Visual Schedule Board to provide finite capacity planning with forward and back scheduling of work orders. Shop floor work order tracking is integrated with yield analysis, real-time production reporting, machine monitoring and Workflow Management. It is also fully integrated with Product Data Management, product, machine, lab and engineering specs, Quality Assurance tests and test history by SKU, lot and roll.
Visual Schedule Board
The Visual Schedule Board integrates workflow management and links customer-purchase-work orders to inventory availability, work-in-process and machine schedules providing managers, buyers and shippers with real-time information to improve customer services.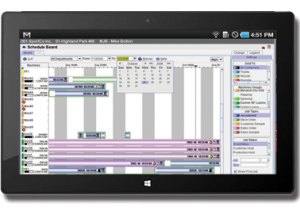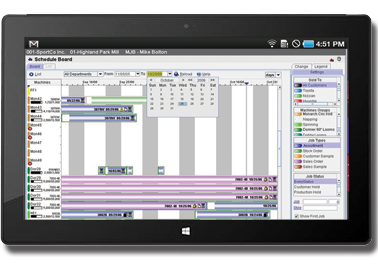 Separate Visual Schedule Boards by Department

The Visual Schedule Board can be configured and modified for activity scheduling by department and reinforced with workflow management for event-triggered action messages and e-mail notifications.
Field Services crew scheduling and coordination of job site activities in Utilities and Construction
Manufacturing Execution System
Supply Chain Management with tracking (over the internet), order/shipping status and inventory levels at the subcontractors' location
Product design and development
Customer services, purchasing, suppliers and subcontractors
Warehouse and distribution centers
Preventive Maintenance and Repair
WIP Work in Progress Schedule Board

To increase visibility of job schedules across departments, the WIP Board provides for sales order inquiries by order line items linked to work orders, customer ship to, sold to and credit information. The user can also search by customer top accounts, departments, machine groups, job type and job status.
Visual Schedule Board Capabilities

Forward and Backward Scheduling of work orders from 'Timeline Guide'
Orders can be split across multiple machines or merged onto a single machine
Machine time can be 'locked-in' on a customer or order basis and 'unlocked' for rescheduling
Multi-level bills of material and process/routings are supported across multi-plant operations
Job duration and end-date algorithm consider downtime for all calendar types and settings
Standard weekly schedules with daily overrides are provided for ease of use
Grab, drag and drop a single or group of scheduled work orders
Vertically shaded bars represent machine downtime, weekends, holidays and vacation period to allow for scheduling between non-working days
Machine and product specifications are accessible for on-line scheduling override
Dependencies are visually identified and adjusted in a 'what if' scenario
Viewing and booking of unscheduled machine time

Auto Load 'Best Fit'
Single or multi linked work orders (suggested or planned and released) are loaded based on due date and available capacity of machines or machine groups. Schedule date, run-time and auto load capacity are set based on capacity load percent at any calendar level.

Manual Load
Schedulers load one work order at a time as they view capacity and (if necessary) split a work order over multiple machines, or load multiple work orders onto one machine adjusting quantities and start dates.

Aligning Bottleneck Routings
Schedulers can select a 'bottleneck' routing (or work order operation) and place the job bar for it on a selected machine with available capacity. The subsequent operations of the same work order from the 'end date' of the bottleneck – job bar are forward scheduled. Preceding operations or processes of the same work order are backward scheduled (rescheduled) from the 'start date' of its bottleneck operation.
Set-up by Department and Cost Center
Equipment Setup – machines that belong to machine group with manufacturing parameters and capacity in hours/days
Bill of Material/Process Sheet Set-up – for each work order there should be an associated BOM and Process sheet with quantity and time that determine capacity and schedule requirements
Schedule Board Set-up and Definitions
Timeline can be set in days, hours, half hours and minutes
Calendars can be set at the plant, department, machine group and/or machine level
Machine List Filter allows for selection by department, machine group list, work order and linked work orders.
Legends can be defined and selected by job (work order), product, customer purchase order, job type and sales order type (i.e. domestic or export order, etc.). Users can also define legends for selecting and locating work orders on the Visual Schedule Board.
Selection of Job Status Category have drop-down combo-box to associate a different color for each status: job closed, running late, job (scheduling) conflict and (job) to be scheduled
Select Job Type Category for: stock order, customer sample and sales order by associating a different color with each entry
Define Machine Group and Customer Colors
Quality Assurance
Quality Assurance and Testing includes comprehensive configurable user defined test parameters, characteristics and templates. Test templates can be configured by any combination of Product, Production Process, Machine, Customer and in the case of raw materials by Vendor. Test Results can be collected at multiple levels of detail, including Product, Lot, Roll and Serial#.
Tests can be qualitative and quantitative. Critical tests that are not within tolerance ranges and fail can trigger events and action messages to put goods on hold. Test results are stored in a comprehensive historical repository for analysis by QA and Product Engineers. Certificates of Analysis are integrated with Customer Service and provided with shipping documents sent to customers.
Distribution and Supply Chain
The JOMAR Distribution and Supply Chain Solution includes Configurable Business Rules and core functions to manage the full business processing cycle in a Distribution and Warehousing Operation. The flexible Enterprise configuration supports any combination of Centralized, Regional and Branch warehouse locations.
Call Center Order Entry, Web Site Shopping Cart same day shipments, EDI Retail and Automotive Releases are fully integrated and supported by automated inventory allocation and creation of distribution releases that are routed to the warehouse closest to the customer for shipment.  
The system functions include replenishment planning, configurable rules for auto allocation, movement of material, scheduling of resources, dynamic configuration of wave releases, fabrication and final picking/packaging to detail customer specifications such as those required in the Retail Industry.
The system supports pick and pack operations, bulk goods and roll goods. Roll goods can be cut and/or slit, packed into a carton and palletized, stacked on a pallet or shrink wrapped individually for final shipment to the customer.  Cartons and Pallets can then be loaded into containers and tracked by container for domestic or international shipments.
Preventive Maintenance
Preventive Maintenance is fully integrated with Inventory, Purchasing, Planning, Manufacturing Execution, Visual Schedule Board and Costing. Standard maintenance routines can be defined for any Asset or Equipment Type. Routines include the tasks,activities, skill sets as well as parts and materials that are required to complete regular maintenance. PM frequency calculations that automatically generate PM Work Orders can be based on configurable user defined criteria such as running hours, units produced or a time frame such as days, weeks or months.
PM Work Order types are user defined configurable templates and support orders and workflow events that initiate the immediate investigation of a reported machine downtime problem. Once maintenance has determined how to correct the problem an Emergency Repair Order can be created online to requisition the parts, material and skill sets required to effect immediate repairs.
The Visual Schedule Board provides visibility to production of machine and equipment scheduled downtime allowing schedulers to optimize production by scheduling products on the best alternate machine to meet customer due dates. The material and labor collected by P.M. and Repair Orders is stored in a consolidated historical repository by asset and machine to support management in analyzing and making decisions to replace aging or under performing equipment.
Workflow Management
E-mail notifications combined with 'Event Triggered Action Messages' are integrated to enhance the communication and flow of work through manufacturing and distribution.
Financials
JOMAR Financial Management Software is an integrated suite that includes General Ledger, Accounts Receivable, Accounts Payable and Bank services integrated with the full suite of Manufacturing and Distribution Applications.
Bank Services

Electronic bank reconciliation – processing of electronic bank information to support check reconciliation
On-line check reconciliation with automatic posting to General Ledger
Financial Statement Generator
Simplified set-up of financial statement format via identification of accounts by 'Wildcard' and 'Range' combinations
On-line (summary and detailed) financial statement inquiry with journal postings for supporting detail
Dynamic mix and match of financial statement column layouts to account statement formats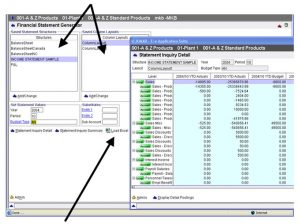 Automated load to Excel for subsequent reporting.
Other Features of Financial Software Applications
Full Inter-company transaction processing with all financial software modules
Powerful 'As of' reporting for Accounts Receivable and Accounts Payable to support auditing requirements
Account history of all postings in financial modules
Reprint capability for posting reports
Seamless integration of financial software modules with the manufacturing and warehouse distribution modules
Drill-down from GL, AR and AP transactions to Inventory, sales and purchasing source documents
Documents can be scanned, stored, retrieved and appended to important accounting or legal records
Multi company Financial Consolidation – reporting of alternate groupings for multinational business operations at a selected currency:
Automated elimination entries
User defined direct-subsidiary discount linkages
Unlimited number of user-defined consolidation scenarios
Rollup capability for automatic summarization of accounts within the consolidation company with drill-down to account
Consolidation across multi-currency companies to a common reporting currency
Multi-currency
Multi-currency for GL, AR and AP integrated with financial reporting
Extensive multi-currency inter-company transaction processing. Automatic exchange rate calculations support inter-company journal entries involving companies with different domestic currencies
Inquiries support presentation of both domestic and foreign currency amounts
Streamlined journal entries in foreign currency with automatic calculation of domestic equivalent based on currency table
Computer generation of unrealized exchange gain/loss postings with automatic reversal
Capability for a customer to carry invoices and credit memos in any number of currencies at any one time
Capability for a vendor to carry invoices in any number of currencies at any one time
Automatic posting of realized exchange gain/loss cash application for multi-currency invoices
Check Run allows for any currency with automatic posting of realized exchange gain /loss for multi-currency payments
Third Party Software Integration
MS Excel and Word documents are linked to journal entries, invoices, credit memos, adjustments and other accounting transactions
GL, AR and AP applications export data to Microsoft Excel for reporting and graphic analysis of financial information
Upload of budgets from Excel
MS Excel and Word documents are linked to journal entries, invoices, credit memos, adjustments and other accounting transactions
GL, AR and AP applications export data to Microsoft Excel for reporting and graphic analysis of financial information
Upload of budgets from Excel
Costing
Product, Job and Project Costing are fully integrated with BOM/Recipe, Purchasing, Subcontracting Services, Outsourcing, Inventory, Manufacturing Work Orders, and Financial Management. User defined standard costs for material items, fixed and variable overhead, direct and indirect labor are linked to BOM/Recipe and activities, BOM quantity requirements, yields, scrap and efficiency factors. These values are used in the cost calculation rollup to create a standard cost value at each level in the BOM/Recipe to arrive at a final end Item Standard Cost for use in inventory valuation and margin analysis. Multiple rates and material unit costs can be set and selected in any combination to support What If Product Costing and Analysis.    
Real time reporting of actual material issues and labor against Manufacturing Orders provides the ability to compare actuals to standards for variance analysis. Job and Project Costs can be collected from Purchase Orders, Subcontracted Services, Manufacturing Orders and accumulated under a user defined Project or Job Number.   
Contact us for a Webinar Software Demo
OUR CUSTOMERS MARKETS AND PRODUCTS
Automotive
Assemblies
Molded Parts
Interiors
Tires
Aerospace and Advanced Composites
Awnings and Rigid Structures
Construction
Roofing Material
Road Surface Reinforcement
Consumer Goods
Environmental Protection
Filtration Air and Water
Oil Booms
Soil Erosion Prevention
Reservoir Water Preservation Lining Barriers
Recycling Plastics
Fire Protection
Geotex and Geosynthetics
Military Products
Camouflage
Inflatable Boats
Infrared Reflective Materials
Soft and Hard Body Armor
Marine
Medical
Mining
Plastics
Polymer
Sealants and Adhesives
Sports
Athletic Footwear
Hunting & Hiking Apparel
Industry Specific ERP Functionality
Automotive Release Processing
Fabrication and Assembly
Make to Order Job Shops
Process and Repetitive Manufacturing
Polymers and Plastics
Roll Goods, Slitting, Cutting and Tracking
Steel Coil Processing and Tracking
Technical and Performance Textiles