Next Generation CIS/MDM/ERP Electric Water Gas
Innovative Collaborative
Technology Driven
Built to Support
AMI Smart Meter Technology
Renewable Energy
Water Conservation

Next Generation Customer Information System
Engage Collaborate Transform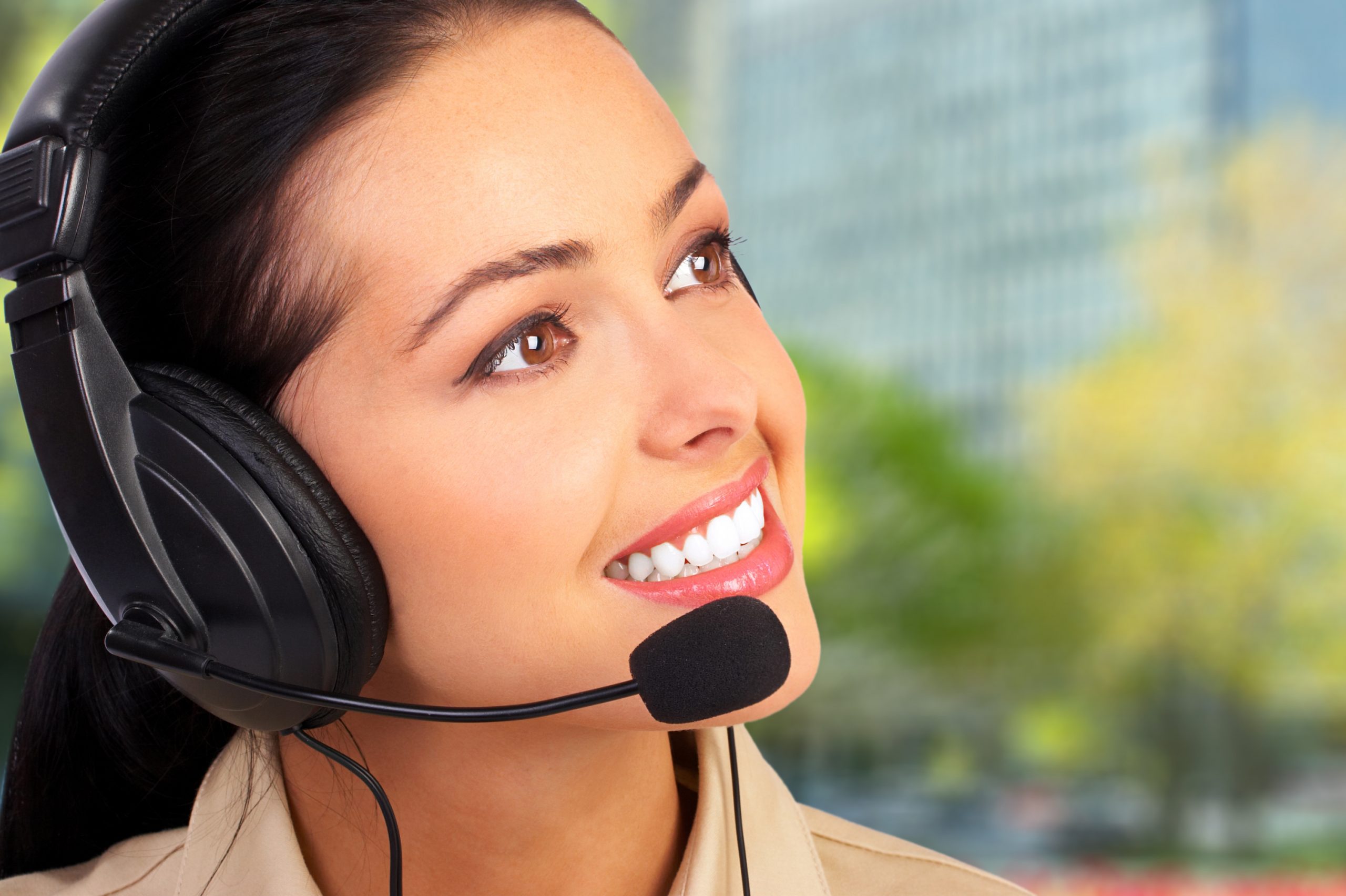 Customer Information System (CIS)
WHY JOMAR
Modern Current Technology CIS that Supports Regulated and Deregulated Markets
Promotes Innovative thinking and change throughout the Utility Organization
Adaptable Business processes support the transformation of a Utility as it pursues Renewable Energy and Water Conservation Initiatives
Best Practices Implemented across the full scope of the CIS Application
A True Multi-Utility Enterprise system that Seamlessly integrates multiple entities, commodities and services across the entire customer base
Facilitates and speeds up the launch and implementation of new products and services
Simplifies the acquisition and merging of new business units and assets that may be required by Utilities to grow or meet new government service mandates
Scalable Modern and Built for the Private and Public Cloud
Designed to meet high volume data processing demand of Smart Meters & AMI Technology
Open Technology Framework supports integration of Third Party Software and Services
Low Cost of Service Utility objectives are supported through modern design concepts, Configurable Business Rules and continuous adoption of new proven technology

Streamlined & Automated Business Processes
Flexible Configurable Business Rules that allow Utilities to:

Easily adapt the system to existing and new business requirements
Streamline and automate existing and future processes eliminating manual workloads
Accommodate existing and future Regulatory requirements

Customer Account and Premise Management
Account and Premise Management Hubs
Account 'Wizard' – Streamlined Account Management / Move In / Move Out
Dashboards provide Summarized Views of Detail such as Consumption with Drill Downs
Customer Service Hub provides fast easy access to all Customer and related Premise Data
Detail Audit Trails track all changes and updates
Automated Account Move Clearing House

Comprehensive Configurable Billing Rules Engine 
Billing Calculation Templates support Simple and Complex Rate Structures for all Commodities and Services
TOU / Interval / Manual Reads /Streetlighting
Retail, Tiered, Spot Market Rates, Interval Pricing, Owned Transformer and Primary Metering Discounts
Commodity Specific Calculations and Attributes such as Compound Meters, Meter Size CTs / PTs/

Meter Data Management (MDM) Integration
MDM integration provides Comprehensive Validation, Edit and Estimation Rules (VEE) ensure Quality Meter Data and Data Integrity
Centralized Meter Data Management Repository

Consolidation of all meter data residential/commercial/consumption/generation
Suite Metering
Virtual Metering
CTs / PTs / Meters / Locations / Electronic Record of Installation (ROI)
kWh / KW / KVA / KVAR / MV90 / Walk Reads

Billing Determinants and Bill Processing
Billing Management Hub Provides Billing Staff with quick access to all Relevant Billing Data
Billing Quantity Request/ Response Processing Hub Streamlines MDM Integration
Configurable Billing Pre-Bill and Processing Edit Rules
Pre-Bill Validation and Threshold Edits
Centralized Pre-Bill Edit Hub
Date Effectivity across all Billing Determinants including rates, cycle, primary metering
As of Date processing
Monthly Billing
Time Based Transaction processing
Automated Billing Processes support – TOU / Interval / Manual Reads /Streetlighting
Retail, Tiered, Spot Market Rates, Interval Pricing, Owned Transformer and Primary Metering Discounts
Equal Payment Plans (EPP) and EPP Calculator
Pre-Approved Payments (PAP)
Supports Bill Calculation of Configurable Smart Meter Intervals such as 5, 15, 30, 60 minutes
Multipliers and Global Adjustment
Streamlined Generation Processing – Net Metering, microFIT, FIT
Unbilled Revenue
Configurable Bill Print Presentation
Bill Consolidation and Parent Account Grouping
Automated Billing Settlement & Global Adjustment Processing
Automated Generation of Mobile Service Orders

Customer Deposit Administration
Deposit Administration Management Hub
Automated Calculation of Deposit Amounts
Agreements, Refunds and Transfers
Collections and Delinquency
Collections and Delinquency Management Hub
Configurable Delinquency & Collection Processing Rules
Automated Delinquency & Collections Processing with 'Promise To Pay' Overrides

Retail Billing and Settlement Services
Configurable Transaction Processing Rules
Enrolment, Usage, Hold, release, Reversal, Settlement, Archiving
Automated Retail Billing and Settlement Services

Meter Inventory Management
Inventory application supports Meter and Equipment Lifecycle Management
Serial# and Lot Tracked Perpetual Meter Inventory
Fully Integrated with Mobile Service Order Processing and Purchasing

Webservices (MultiSpeak/SOAP/open API's) support Third Party Software Integration
Customer Self Service Portal
e-billing
Automated Bank Services processing of bank and credit card payments

Trade Shows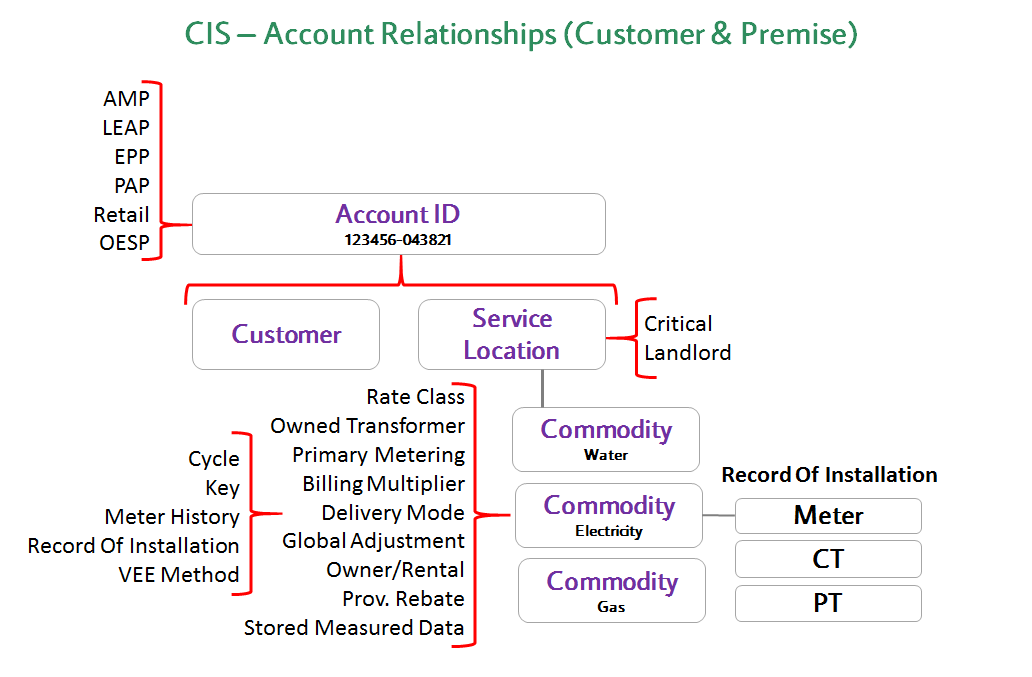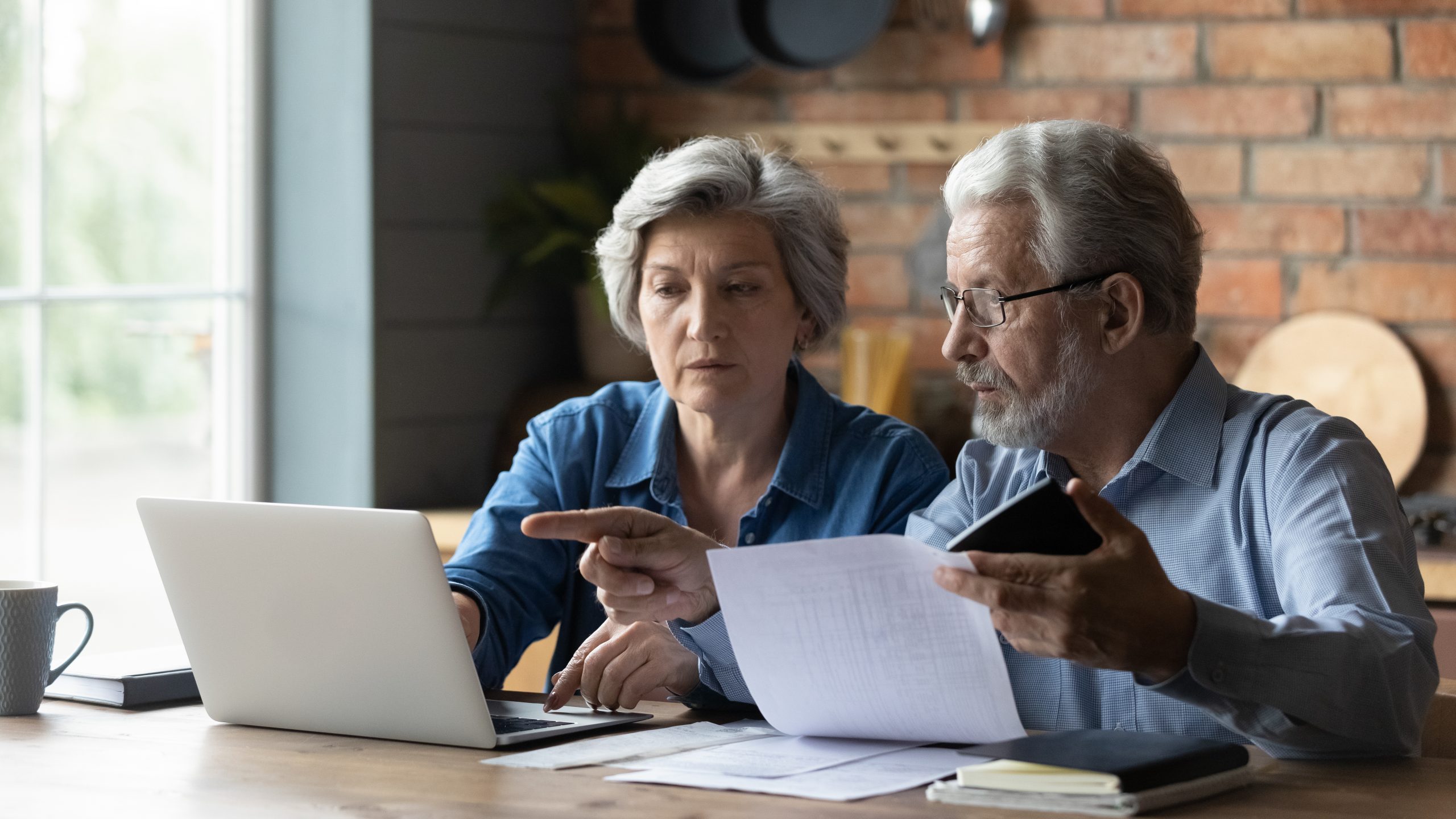 Customer Self-Service Move In/Out Portal
The JOMAR Customer Self Service Portal supports Electric, Water and Gas Utilities is fully integrated with CIS and includes the following My Account features and functions:
Customer Registration

Automatic eBill Enrollment

Account Links and Inquiry: Payment Options, Rates, Utility Website, Energy and Water Conservation Programs

Email Alerts and Notifications

Customer Usage and Supporting Analytics

View Bill and Make Payment

New Account Applicant

Move In / Move

Out of Territory No New Service

Integration with CIS Pending Moves CSR Hub

24/7/365 Availability

Integration with OMS Outage Maps and MDM Alarms/Events   

Industry Standard Webservices support integration and consolidation of data from Third Party Customer Portals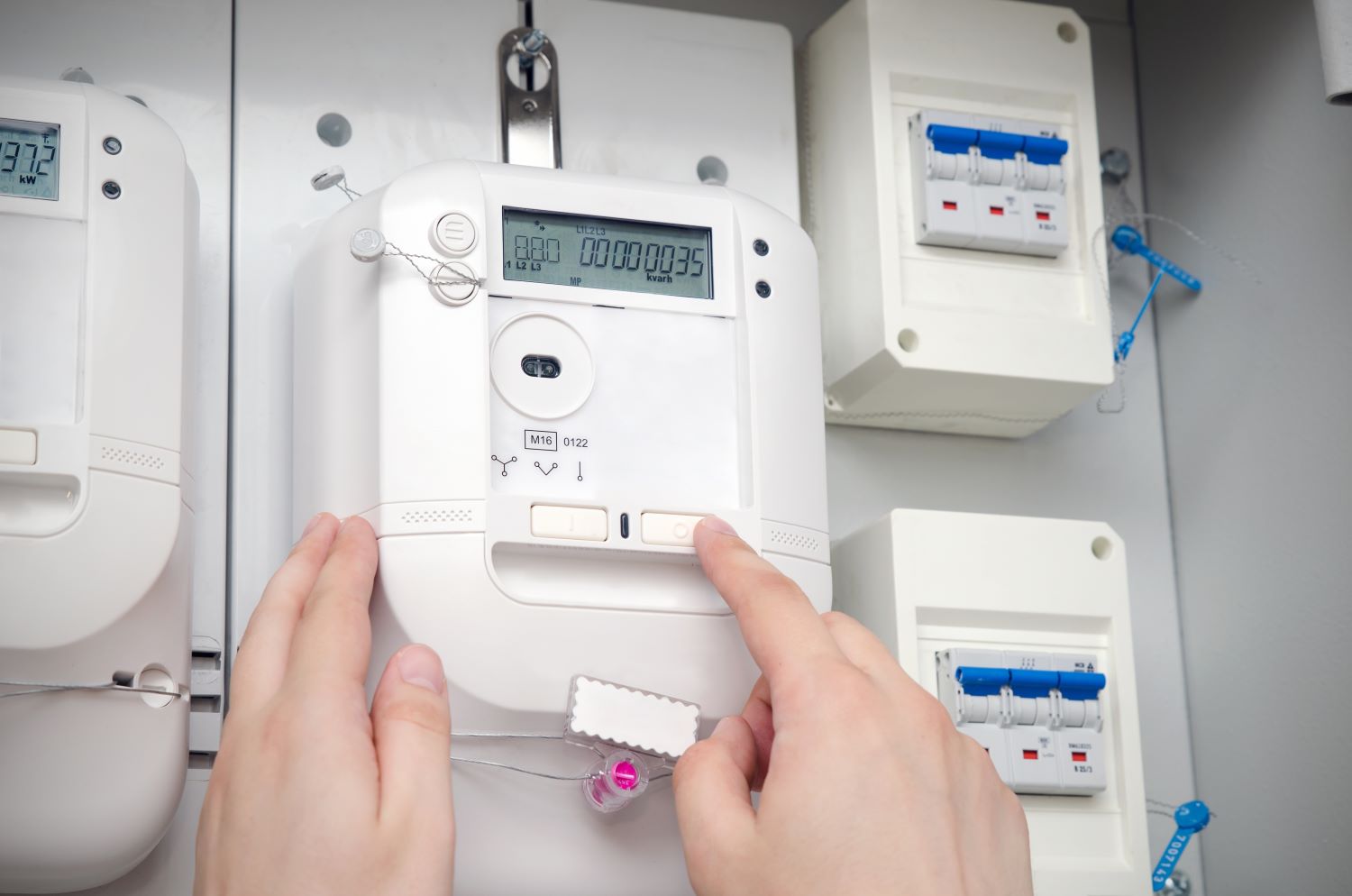 Mobile Service Orders
Automatic Service Order Creation
Collections and Delinquency Hub (Disconnect – Non Payment)
Stale Meter Rules (i.e. 72 hours stale, 5 day stale) – Meter Change Out
The Meter Data Management Rules Engine monitors Meter and AMI Health

Configurable  Mobile Service Order Processing Flow


Configurable Service Order Examples

Connection
Apartment Suite Meter
Commercial Meter Only
Commercial OH New
Commercial UG New
FIT New
Microfit New
Residential Meter Only
Residential OH New
Residential UG New
Temporary OH New
Temporary UG New
Unmetered Connection New
Meter Change
Meter Change: Existing
Meter Change: Gov't Reverification
Meter Change: Inspection Required
Meter Change: Net Meter Installed
Meter Change Defective: Dead
Meter Change Defective: Moisture
Meter Change Defective: Other
Meter Change-eepromm error
Meter Change-Phase A low potential
Meter Change-Register memory error
Verify Meter to Unit
Permanent Disconnect
Removal Of Service
Removal of Meter
Service Upgrade
Commercial Upgrade
Panel Change
Service Repair
Net Metering
Residential OH Upgrade
Residential UG Upgrade
Temporary Disconnect
Nonpayment Disconnect / Reconnect Temporary – Safety
Water
Water – Customer Complaint
Water – Final Read
Water – General
Water – Meter Change
Water – New Meter
Water – Payment Arrangements
Water – Remove Meter
Water – Verify Read
General
Billing Adjustment
Consumption PreBilling Check
Consumer Station Guarantee
Cust Serv: Actual Read Required
Emergency Repair
Forestry
General
High Bill Complaint
Locate
Layout: Overhead
Layout: Underground
Meter Check Customer Request
Micro-Fit/Fit Re-Assignment
Meter Reading Maintenance
Meter Reading Request
No Consumption Check
Power Quality Investigation
Safety Check
Smart Meter off by Customer
Smart Meter Investigation
Smart Meter Stale
Stations Maintenance
Stray Voltage Investigation
Theft of Power Investigation
Meter Data Management (MDM)
WHY JOMAR
The JOMAR MDM is a modern system designed to support high volume processing requirements of Smart Meters deployed with AMI Technology. The benefits and advantages of the MDM include the following: 
Scalable and Configurable

Supports Renewable Energy and Water Conservation Initiatives

Simple and Easy Deployment that integrates with multiple AMI Technology

Automated Business Processes provide efficient ease of use Operations 

Seamless Integration across multiple Utility Entities and Systems

Consolidates all sources of Meter Data into a comprehensive Meter Data Repository          

Dashboard Analytics support Electric, Water and Gas KPI's 

Configurable Data Validation Rules Engine (VEE) ensures Quality Meter Data

Supports CIS Simple and Complex Billing Rate Structures and associated Billing Determinants

Automated triggering of Mobile Service Orders (Connect and Disconnect)

Configurable AMI and Meter Health Operational Rules Engine

Real time Meter Alarms/Events Listener

Leak Detection and Analysis

Water Conservation Alerts and Messaging integration with Mobile Customer Portal  

Supports Transformer Load Analysis and Power Quality Study    

Outage Management Support with Asset Ping Services

Summary of MDM Features
User Configured AMI / Meter Health Operational Rules Engine
User can create Rules to monitor Water Leaks including Leak Detection, Usage Thresholds, Stale Meters, VEE, Alarms/Events, Meter Change Outs and more. This includes Notification and Automatic Service Order creation for Active/Inactive Locations by Meter Type and/or Vendor. Rule Results are aligned with the Imported Billing Schedule, prioritizing Meter Shop activities with 'Days to Bill' timelines.
User Configured VEE (Validate, Estimate, Edit) – Like Days & Class Profile Interval Scaling
Service Location 'Like Days History'.
Class Profiling and Event Quantity estimation algorithms respect a Statutory Holiday Calendar. These algorithms are configured by Rate Class and/or Service Location and include Same Day, Week, Year; Max/Min Occurrence; Apply Max, Min, Average or Actual Intervals for scaling to the Registers.
Algorithms are date effective and multiple algorithms, sequenced, can be deployed as configured for each Rate Class or Service Location (i.e. Like Days fails and Class Profile is launched).

MDM Billing Quantity Request CIS Integration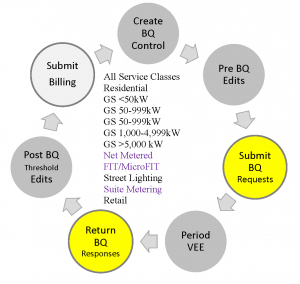 User Configurable Meter Read Export includes:
Population – Rate Class, Meter Type, Location, Meter; Date Range
Unit of Measure; Quality – Actuals, Estimates, Actuals & Estimates
Quantity – Measured (Raw), Multiplied
Duration (5, 15 and/or 60 minute Intervals) can be rolled up and exported
Export Format can be JOMAR Web Services (Rest API JSON, SOAP XML), MultiSpeak XML, ESRI or Hexagon Web Service, CMEP or CSV

AMI MultiSpeak Integration 
MDM Real Time Meter Read & Alarm/Events AMI Integration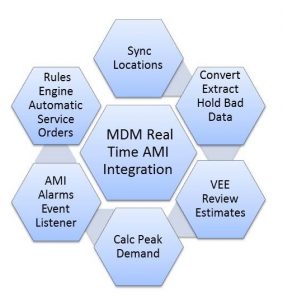 Supports
GIS / OMS / SCADA Integration
Transformer / Meter List Ping GIS
Instantaneous Voltage/Current
Sending OMS Alarms to SCADA
Demand Algorithms
Rolling or Fixed Intervals 5, 15, 30, 60 minutes
A Real Time Alarm/Event Listener
Archives all alarms processed by the Rules Engine for Historical Analysis and for pushing specific events real time to GIS.
JOMAR MDM or GIS can ping a meter/virtual location/list of meters.
MDM receives the Ping Response and forwards it to GIS or any other application using MultiSpeak and that can point their Real Time Alarm/Event Listener to JOMAR MDM.
Meter Ping – GIS can send JOMAR MDM Assets from the Electric Grid or Water Network and JOMAR MDM will ping the associated meter(s), Archive the response and return required data to a JOMAR MDM screen, GIS Map or any other third party system.
Scheduled Meter Pings with effectivity dates and times. Engineers can build Meter (Location) lists and apply scheduled dates and times for the ping request/response.


Aggregation CIS-GIS Request/Response
by Rate Class, Cycle, Virtual Service Location and/or Boundary Meter
CIS Billing can submit request's or provide a data base table of Billing Quantity requests. JOMAR MDM will apply multipliers and return Start/End Reads for each Bill Period. These requests can include Virtual Service Locations and/or Compound (Multi-Channel) meters
Integration with CIS Billing allows JOMAR MDM to process and return Aggregated Quantities for Monthly Usage, Unbilled Monthly Usage, Unbilled Revenue 'As Of' Date
Aggregation can return quantities as Total, Tiered Usage and/or Time of Use Consumption.

Consumption can overlay and project TOU Water Consumption to pump station electrical consumption/charges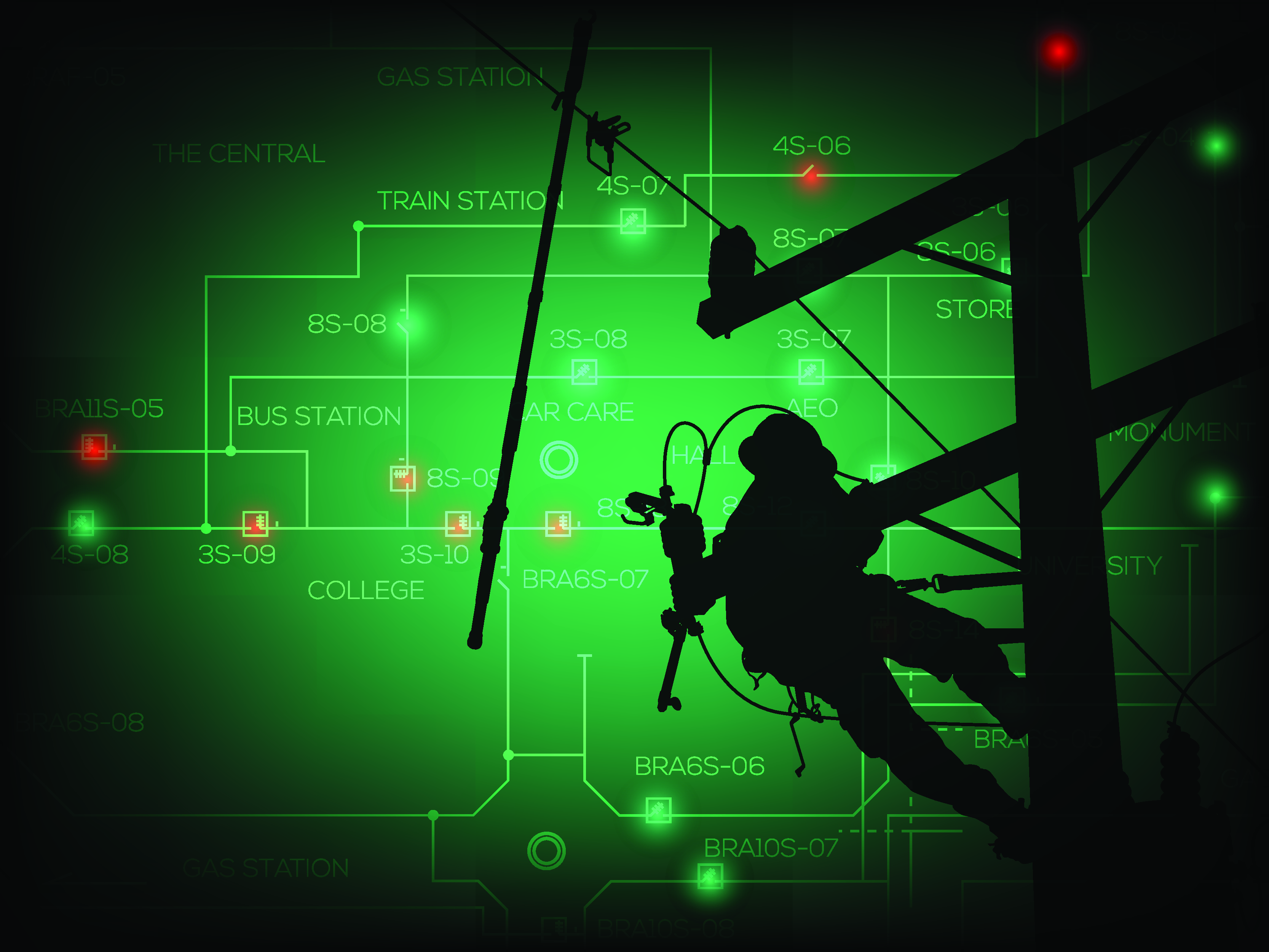 Integration with AMI, GIS, OMS, SCADA
JOMAR MDM integration provides:
Instantaneous voltage
Scope of power outage and resource requirements
Rapid crew dispatching and efficient power restoration
Scheduled Watch List from Meter Pings on selected Feeder Lines that return hourly Power Quality Study data for the Control Room and the Metering Department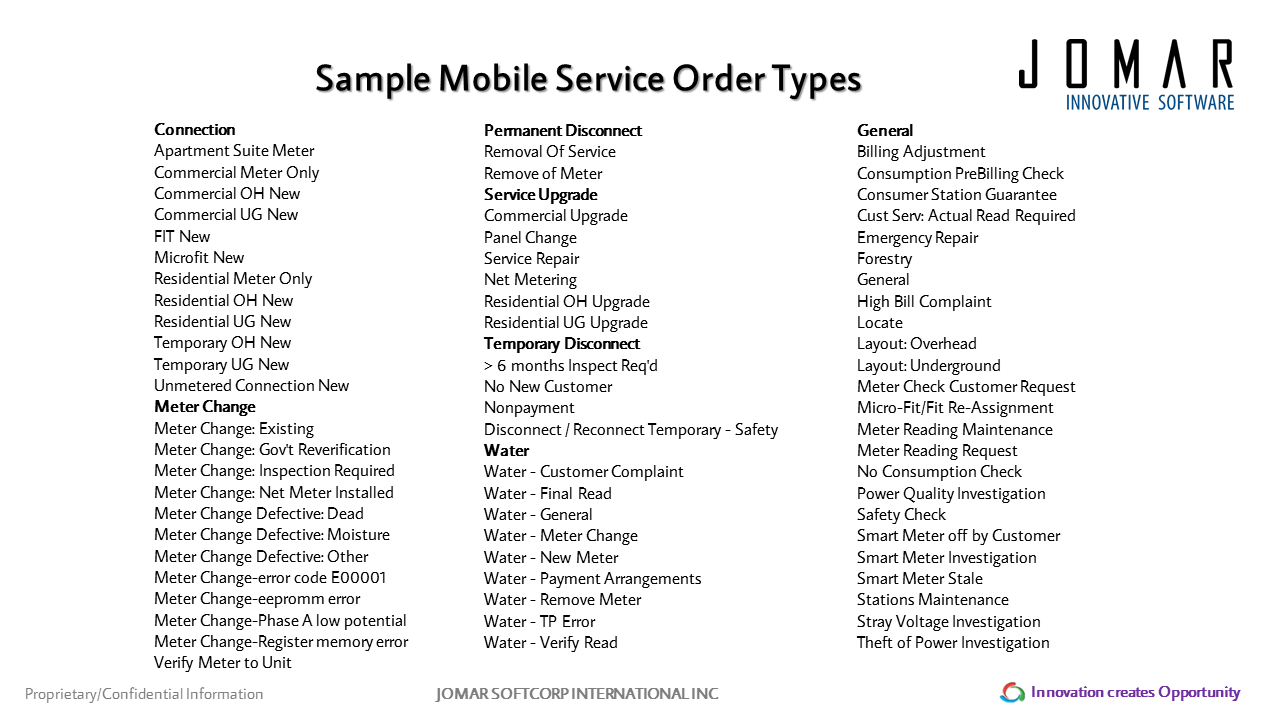 ERP and Financial Management
The CIS, Mobile Service Order Processing and MDM is integrated with the full suite of proven JOMAR ERP applications that include the following: 
Financial Management

General Ledger
Accounts Receivable
Accounts Payable
Bank Services

Project Quoting, Estimating and Tracking
Work Order Management
Procurement
Contract Services
Asset Management and Tracking
Inventory Management – Distribution

including Reels and Cables

Capitalization of Assets
Preventive Maintenance and Repair – Equipment/Vehicles
Integration with Third Party Payroll and Human Resource Applications

Integrated Work Order and BOM Processing Engine
Supports
Single Work Order/Job
Multiple Work and Purchase Orders/Job
Single and Complex Multi-level Bill of Material (BOM)
Example Structure Maintenance Projects, Jobs, Work Orders, Purchase Orders
Primary Job Site
Pole Installation (Work Order)
Contractor Excavation (Purchase Order)
Transformer Installation (Work Order)
Secondary Job Site 
Street Lights (Work Order)
Next Generation CIS/MDM/ERP Overview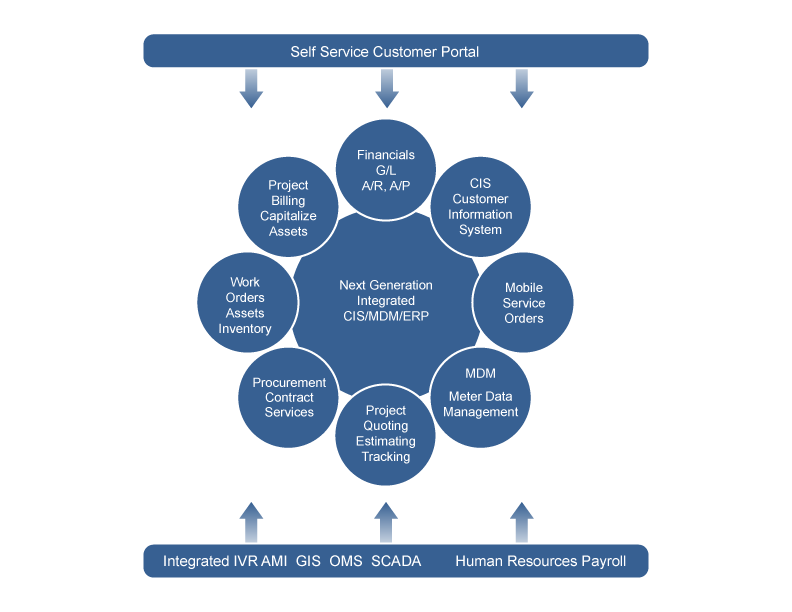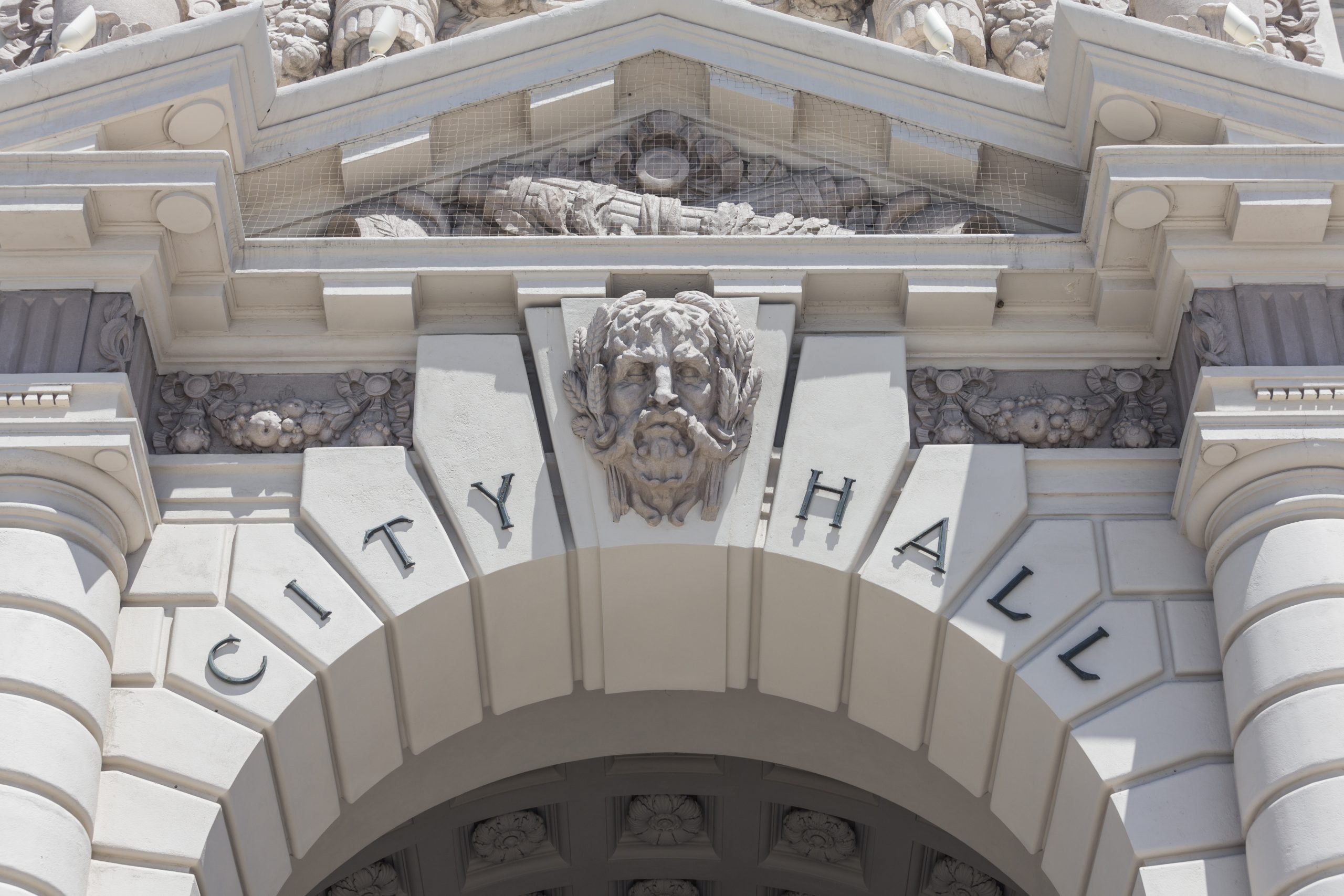 Utility Rental, Telecom, Internet Services and Property Tax
The JOMAR ERP Services Billing, CIS Configurable Billing Templates Engine, Work Order and Configurable Mobile Service Orders functions support a Utilities' growth strategy to expand beyond its traditional sources of revenue.
The following are examples of the types of Service Revenue and Programs that can be managed and billed in the JOMAR Applications.
Communications, Networks and Internet Services
Fiber Optics, Installation and Support Services

Local Area Networks (LAN)

Private Phone Networks, Hardware and Video Conferencing Services

Web Site Hosting and E-mail

Business Internet Services

Data Center Hosting Facilities and Co-Location Services
 
Rental Services
Electric and Gas Water Heaters

Boilers

Rental Agreements Terms and Conditions

City and Municipal Property Tax
The CIS Configurable Templates provide the functionality to calculate Property Taxes, generate e-Bills and support Account Management. The Property Tax functionality provides the opportunity for a City or Municipality that, for example provides Water Billing and Services to the community, to have a streamlined single easy to use system. The City and its Customers will have a common system to review the status of their account services and a single payment process.
The following features are included in the Property Tax Functionality:
Configurable e-Billing

Interim, Installment, Final and Supplementary Tax Bills

Residential, Commercial, Industrial Tax Calculation Templates

Customer Payment Processing

Account Management Hub
Renewable Energy and Water Conservation

Infrastructure Next Generation ERP



Billing, Settlement & Regulatory Compliance
Mobile Workforce Management
Scheduling Resources
Project Quoting and Estimating
Work Orders & Maintenance of Equipment
Post Implementation Site Maintenance