JOMAR's Visual Schedule Board
Separate Visual Schedule Boards by Department
The Visual Schedule Board can be configured and modified for activity scheduling by department and reinforced with workflow management for event-triggered action messages and e-mail notifications.
Field Services crew scheduling and coordination of job site activities in Utilities and Construction
Manufacturing Execution System
Supply Chain Management with tracking (over the internet), order/shipping status and inventory levels at the subcontractors' location
Product design and development
Customer services, purchasing, suppliers and subcontractors
Warehouse and distribution centers
Preventive Maintenance and Repair
WIP Work in Progress Schedule Board
To increase visibility of job schedules across departments, the WIP Board provides for sales order inquiries by order line items linked to work orders, customer ship to, sold to and credit information. The user can also search by customer top accounts, departments, machine groups, job type and job status.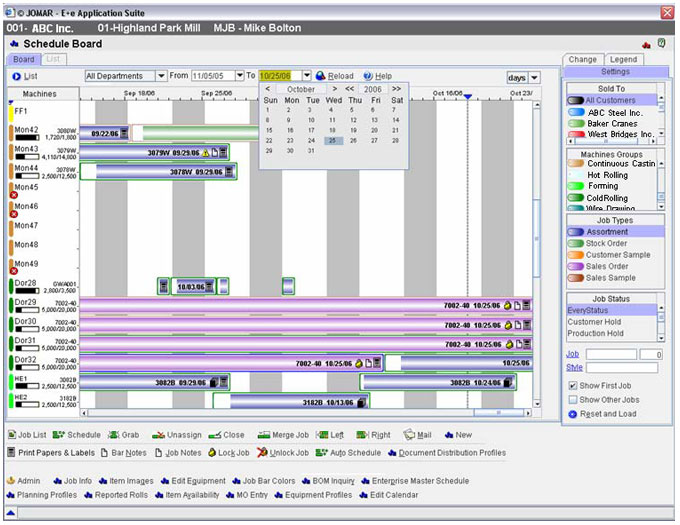 Visual Schedule Board Capabilities
Forward and Backward Scheduling of work orders from 'Timeline Guide'
Orders can be split across multiple machines or merged onto a single machine
Machine time can be 'locked-in' on a customer or order basis and 'unlocked' for rescheduling
Multi-level bills of material and process/routings are supported across multi-plant operations
Job duration and end-date algorithm consider downtime for all calendar types and settings
Standard weekly schedules with daily overrides are provided for ease of use
Grab, drag and drop a single or group of scheduled work orders
Vertically shaded bars represent machine downtime, weekends, holidays and vacation period to allow for scheduling between non-working days
Machine and product specifications are accessible for on-line scheduling override
Dependencies are visually identified and adjusted in a 'what if' scenario
Viewing and booking of unscheduled machine time
Set-up by Department and Cost Center
Equipment Setup – machines that belong to machine group with manufacturing parameters and capacity in hours/days
Bill of Material/Process Sheet Set-up – for each work order there should be an associated BOM and Process sheet with quantity and time that determine capacity and schedule requirements
Schedule Board Set-up and Definitions
Timeline can be set in days, hours, half hours and minutes
Calendars can be set at the plant, department, machine group and/or machine level
Machine List Filter allows for selection by department, machine group list, work order and linked work orders.
Legends can be defined and selected by job (work order), product, customer purchase order, job type and sales order type (i.e. domestic or export order, etc.). Users can also define legends for selecting and locating work orders on the Visual Schedule Board.
Selection of Job Status Category have drop-down combo-box to associate a different color for each status: job closed, running late, job (scheduling) conflict and (job) to be scheduled
Select Job Type Category for: stock order, customer sample and sales order by associating a different color with each entry
Define Machine Group and Customer Colors