Software for Technical Industrial Textile Products and Processes,
Services for Converters, Marine Fabricators, Awnings and Structures

…are scalable for small to mid-sized companies and multi-national corporations integrated with ERP, Enterprise Mobility Solutions and JOMAR Services.
Since 1982, JOMAR continues to provide advanced software for our customers in the U.S.A., Canada, UK, Europe, South America and Asia. JOMAR professional IT staff assists our multi-national customers in supporting their global business locations.
Our Customers select the JOMAR Software modules that meet their business needs and implement them on multi-platform servers or use the private Cloud on JOMAR Hosting Services that provides complete software and hardware support so that they can focus on their business.

Engineered and Performance Materials for Technical and Indutrial Textiles:
Military Products
Soft body armor and bullet proof vests
Camouflage combat uniforms and gun holsters
Parachutes and duffel bags
Fire Protection
• Fire Fighter turnout gear • Flame Resistant materials for fire flash protection and electric arc flash
Aerospace and Advanced Composites
Engineered high performance woven fabrics: fiberglass for aircraft interiors and vehicle armor protection; impregnated carbon fabrics (light weight and high strength solutions) for windmill blades and helicopter rotor blades.
Automotive Interiors, Tires and Parts
Headliner fabric, flooring and formed carpet backing
Thermal and acoustical insulation for front dashboards, exhaust systems and flooring
Seating, foam/fabric laminates and lumbar
Injection Molding for intake manifolds, front-end modules, air cleaners, fixtures, gauges and interior/exterior trims
Ceramic catalytic converters for vehicles
Geosynthetic Project Management and Post Implementation Site Maintenance
Drainage Materials
Erosion Control
Artificial Turf
Geotextiles
Geogrids
Shoreline protection and marine structure construction
Reinforcement for retaining walls and embankments
Landfill covers and reservoir barriers

Water-proofing membranes
Stacked concrete drainage
Sports with Fabric reinforced Plastics
Snowmobile plastic molded covers
Hockey sticks, skates and tennis racquets
Protective equipment and pads for athletes in football, hockey and skiing
Skis, snowboards, surfboards and skateboards
Material for hiking, athletic footwear and insoles
Custom Fabrics for Converter Services
On-line processing of customer orders, purchase orders, receiving, fabric roll inventory control, converting processes and direct shipments to the Customer are provided at the Converter facility. The Converter may also outsource the required converting services.
Marine Fabricators, Awnings and Fabric Structures
Marine Fabricators: • Bimini Tops • Sail Cloth • Boat Interior and Upholstery

Awnings with various fabrics, designs and supports. Structures in different forms and types of applications
Online visibility is provided from order booking, inventory control, purchasing and sub-contracting through job and service order scheduling to shipping, invoicing and financial management reporting improves order profitability and customer services.
Artwork Design Database
The database provides for tracking the artwork with attributes and images from product definition through inspection for managing projects or to link results of designs to trial requests.
Configurable Business Rules Engine
Management and Key Users configure the Business Rules Engine to retrieve data from multiple sources for analysis to determine cost reduction through innovation.
Textile Processes for single and multi-plant manufacturing operations
from Fiber to Finishing, Printing, Cutting, Sewing and Roll Tracking.
Fiber Manufacturing
The production of synthetic fibers may be based on polymer or carbon based compounds. Processes such as mixing, extrusion, drying, bonding and wet spinning can all be defined in the product specification. Polymer and carbon compound formulas are defined in the formula management applications. Additional data such as a die size to support extrusion processes are set-up in the machine specification.
Tracking Bales of synthetic fiber (and other materials) is integrated with Inventory Control and the assignment of Bales to orders.
Spinning
Bale Inventory Control and Scheduling provides for laydown, opening and cleaning, stock dyeing, carding and drawing of fiber for Spinning, Twisting and Winding. Yarn Inventory is tracked by order or lot, case and put-up.
Warping
Case Yarn Assignments to individual Beamers by Machine number are combined with Case Yarn Allocation and Control. Case Yarn is inventoried by Merge Number and Case Number. Other critical data such as number of packages and package size is also provided to facilitate planning of Warping in support of Knitting or Weaving and ultimately Finishing Schedules.
Knitting
Circular Knitting. Product and Machine Specifications for machine set-up are available by Style, Pattern and type of machine. Number of feeds, knit width, and revolutions/piece can be included to support the scheduling of the knitting operations.
Warp Knitting. Section beams are tracked by set number and the beams are assigned to an individual Bar on the machine. Warps can be tracked by Style, Lot and Ends/Beam. The BOM/Recipe, Machine and Product Specifications for the combination of yarns as required for a pattern including the specific Bar on which they should be mounted. Knitted Rolls of various widths are combined, or slit and cut into new fabric rolls with the same Style and Pattern identity.
Weaving
Loom exclusion rules can be defined in the product configuration to support scheduling of specific styles by loom types. The tracking and assigning of warp beams to individual looms can include the projection of warp outs using Shop Floor Data Collection. Woven Rolls of various widths can also be combined, or slit and cut into new fabric rolls.
Loom Schedules are by style, machine group and individual machine. Alternate machines can be set up by style. Requirements for yarn can be calculated using the greige fabric demand from the sales forecast or customer orders. Yarn requirements are driven by the Loom Plan for machines and styles assigned by the production scheduling department.
Non-wovens
Fabrics that are bonded together use mechanical (i.e. needlepunch), heat treatment or chemical resins. Chemical formulas are integrated with the production planning and inventory control applications. Resin production is also supported such as mixing and extrusion of polymer based materials and compounds.
Dyeing
Dyeing process. Various types of processes are supported such as Lot, Atmospheric, Continuous, Cold Pad, Package and Beam Dyeing. Synthetic stock or natural fiber, yarn (packages or beams), piece dyeing and dyeing of garments are supported with Dye Formula Management and Dyelot Tracking software. Inventory Control of Dyestuffs and Chemicals is integrated with the scheduling and release of Dye Lots.
Dye cycles can be set up to schedule the Dyehouse by shade categories - light colors first and dark colors next to reduce purge time and cost. Redyes can be tracked to bring 'off shade colors' to proper shade or to a different color and product. Styles can also be grouped by color on the Dye/Lot Order (i.e. multiline item order, or 'master' dye order).
Planning, Scheduling, Lot and Roll Tracking are integrated with Recipe Formula Management (i.e. Dye and Sizing Formulas), Packaging and Case Tracking.
QC, Product and Machine Specifications and Testing
Lab Specifications for Quality Control Tests and Ballistic Testing at the Lot and Fabric Roll level are integrated with Product and Machine Specifications that are user defined by cost center. A Fabric Quality Indicator is provided with a single character position in the database (e.g. 1, 2, 3, etc.) to indicate fabric quality by style and pattern with the same SKU to eliminate assigning separate SKU's for Inventory Control and Costing.
Finishing
Finishing includes Roll Allocation to Orders and Roll Assignments by matching shipments with Customer and Style Specifications. Finishing also handles shade variations with scheduling and machine setup for Rework. Finishing processes may need to be redone to make the product a first quality, or first quality of another style.
Finishing integrates the Lab Specifications and Quality Control Tests at the Lot and Fabric Roll level with the Product and Machine Specifications that are user defined by cost center.
Roll Tracking
Greige Rolls are processed through various stages, sometimes changing their identity, or becoming a new product as they are batched, slit, bleached, dyed, graded, tested, inspected, cut and rolled into Customer specified put-ups.
Printing
This module has the capability to track and control sets of screens in Inventory. Screen history, usage (i.e. number of yards produced per screen), screens issued to a printer and location of the screen in Inventory are all tracked in the system. Print screens are fully integrated with the BOM/Recipe and Scheduling Logic to insure that Orders with similar patterns can be grouped together to maximize efficiency at the printing operation. The printing application can be implemented for an in-house printing department or an outside Commission Printing facility.
Scheduling Cutting and Sewing with Roll Optimization
Fabric orders are released to schedule cut orders in central or de-centralized cutting operations. The user can create, track and control spreads, marker allocation (including mixed markers) and track fabric utilization. Mixed markers can be managed to optimize cutting efficiency. The Visual Schedule Board supports multi-level bills of material and multi-level routing steps.
Roll Tracking can be expanded to include computer generated marker files for monitoring of actual yields. The actual fabric consumption is recorded by spread which provides the data to calculate yield and efficiency. Individual spreads within a cut are tracked and controlled. Options – Integration of automatic cutting center, CAD/CAM design and RFID.
JOMAR ERP Software and Logistics modules support business processes
integrated with Enterprise Mobility Software Solutions
ERP and Sales Forecasting
ERP provides for planning and scheduling of Customer Orders and Work Orders as part of the textile processes and scheduling of Maintenance/Repair Orders. The Master Production Schedule (MPS), MRP - Material Requirements Planning and Rough-cut Capacity Planning are integrated with Forward and Backward Scheduling, using the Visual Schedule Board for Textile Processes and Plant Load levelling.
The Sales Forecast and calculating the 'Available to Promise' (ATP) provide customer 'Promised Delivery Date'.
For selection of additional ERP Software Modules or functions from the Industry Sector, click here.
Customer Order Fulfilment
Customer Services has complete order visibility from booking through manufacturing to picking, packing, shipping and invoicing. Forecasting, sales, quotations and on-line order processing are integrated with ERP, inventory control, purchasing, sub-contracting, shipping, bills of lading, warehouse management and large invoicing runs.
Third Party EDI Software Packages
EDI is integrated with customer orders, advanced shipping notices, purchasing, automotive release processing and the most commonly used shipping protocol requirements for chain stores.
Automotive Release Processing
Third Party EDI Software Packages are selected for tracking inbound/outbound material movements. Shipping schedules for Just-In-Time receipts are generated for vendors utilizing workflow management. Cumulative order, ship and received quantities are tracked with material and fabrication authorizations as part of planning process that extends throughout supply chain.
Distribution Warehouse Inventory Management
On-line Inventory 'Availability' is provided for fibers, greige and finished fabric, sets by style or lot in warehouse locations and across Supply Chain. Multiple units of measure include length, weight and roll of fabric with conversion to metric units as a standard feature. 'Wall-to-wall' physical inventory and 'cycle counting' are also available as a standard feature.
The 'Warehouse Release' combined with a Bin Locator improve picking and shipping. 'Logical Warehouses', that hold receipts of vendor material for inspection, can be excluded from the MRP processing runs.
Purchasing Management
On-line Purchase Order processing is integrated with Purchase Requisitions, Receiving, Vendor Invoicing and Accounts Payable. Purchase Orders include the allocation of order line items to jobs and capital projects. Re-ordering is triggered by the inventory replenishing process and the MRP – Material Requirements Planning runs.
Work Order Processing
Planned Work Orders are 'Released' to manufacturing based on the production schedule for goods promised to customers or required for inventory. 'Material Allocations' to Work Orders are tracked, if necessary 'De-allocated' (due to order deferment) and returned to maintain Inventory integrity.
.
The Work Order has multiple lines for scheduling similar products through production or the same shades in the dye house. This feature can also be used for a Master Work Order with multiple Work Orders for each separate line.
Product Data Management (PDM) and Product Configurator
The PDM-Database is comprised of: design, development, engineering and machine/lab/QC specifications. PDM provides on-line access to images, sketches, drawings, bills of material, routings, engineering changes, recipe/dye formulas and QC tests. Test history is available by SKU, lot and roll goods. The Configurator provides for the selection of product features, product options and 'sets' (or 'kits').

Visual Schedule Board
The Visual Schedule Board provides forward and back scheduling for capacity planning and plant load levelling. Shop Floor Tracking by styles, lots and work orders is integrated with yield analysis, production reporting and Workflow Management. 'Backflushing' improves inventory integrity of chemicals and dyestuff required for formula management.
Schedulers link work orders and purchase orders to 'Inventory Availability' and work-in-process to provide real-time information for plant managers, machine scheduling, customer services, buyers and shippers. The time base for the Visual Schedule Board can be set up for long or short duration projects, jobs, work orders, maintenance/repair orders and service orders.
The Visual Schedule Board supports multi-level bills of material and multi-level routing steps
in a single manufacturing plant and across vertically integrated multi-plant operations.
Costing
Reporting of labour incurred and material used with work orders, jobs and projects provides the data for calculating the actual cost. Direct and indirect overhead rate tables, or hourly machine rates by cost center, are part of cost calculations. The on-line 'cost roll-up' can be provided by job, project, plant and product.
Financial Software and Multi-currency
General Ledger, Accounts Receivable, Accounts Payable and Cashflow Management are integrated with Bank Services. Uploading/Downloading of Spreadsheets is integrated with Budgeting and Financial Statement Generation.
The JOMAR 'Business Unit' feature is also available for separate companies in a multi-national corporation to report financial results in their currency and to provide 'Multicompany Financial Consolidation' reporting, based on a selected currency.
Preventive Maintenance and Repairs (PMR)
PMR is supported by pre-determined maintenance routines for P.M. Orders. The Visual Schedule Board supports Repair Orders for machines and equipment by priority to minimize down-time. The material and labor collected by P.M. and Repair Orders provides for cost allocations and a repair/cost history by machine, equipment and vehicle that is also available for equipment/vehicle acquisition or replacement programs.
Complementary Software Modules
Data Collection and Traceability. RFID and R.F. barcoded documents support on-line data collection for Work Orders, Jobs and Projects, Field Services and Maintenance/Repair work. Complete traceability is provided from issuing fibers to finished products and especially for tire manufacturing, government, military and aerospace contracts.
Workflow Management. E-mail notifications combined with 'Action Triggered Messages' are integrated to improve delivery schedules across the full service supply chain and to enhances the flow of work through logistics, manufacturing and distribution to increase the utilization of available resources.
Image and Document Processing provides for sketches, drawings, views of parts in equipment assemblies, scanning documents, appending documents to legal records, improved document control and reduces storage space requirements.
Dynamic Dashboards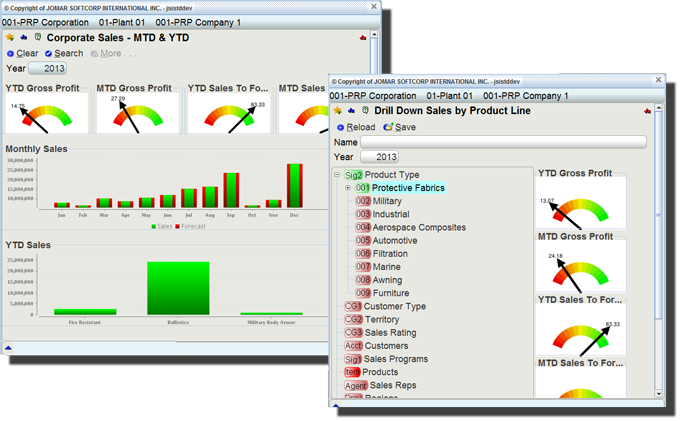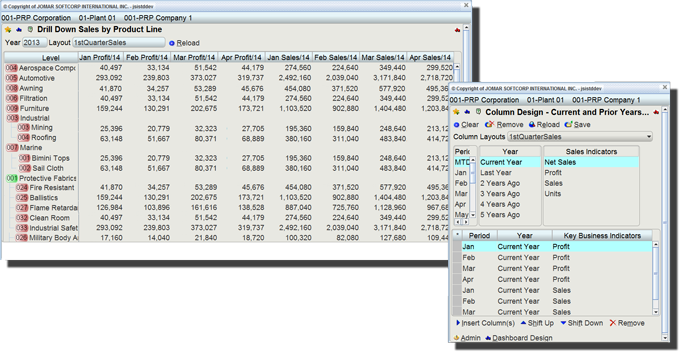 Dynamic Dashboards provide information for Management and Operations. Accomplishments
can also be measured on a predetermined regular time line against activity targets set by a department.