Steel Services and Steel Coil Tracking
JOMAR's 'SPS' Software solutions support steel processes in mini-mills and single or multi-site steel service locations
Quotations
On-line search for quotations and order booking to match the customer's specifications:
Inventory availability by range of gauge, type of steel, form and dimensions
Already cut sheet or coil and new coil to be cut or slit and last sales to customer
Quotations configured and integrated with 'roll-over' to order booking
Selling price by type of material, number of cuts, cost per cut, scrap, packaging and freight
Sales history by type of steel, gauge, cutting dimensions and thickness
Planning for Steel Processes and Services
'What-if' planning scenario for required and available capacity
Mill capacity (i.e continuous casting, rolling, forming)
Service capacity (cutting and slitting)
Planned and released orders

mill processing (casting, rolling and forming)
welding and fabrication
engineered steel
cutting and slitting steel service orders

Material Requirements Planning for mini-mill processes and services
Scheduling Steel Processes and Services
Mini-mill orders (casting, hot/cold rolled and forming)
Welding and fabrication orders
Engineered steel orders
Cutting and schedule parameters for:

type of steel
gauge and number of line stops
customer owned steel processed for cutting fee
optimizing cut by using minimum number of coils and considering slit-width
mapping defects as a guide to cutting or slitting
The Visual Schedule Board improves the utilization of available capacity and enhances the flow of material across mini steel mills and service facilities. Services can be scheduled in real-time as the customers' sales and services require it. Schedulers review and select jobs for either auto or manual loading of cutting orders.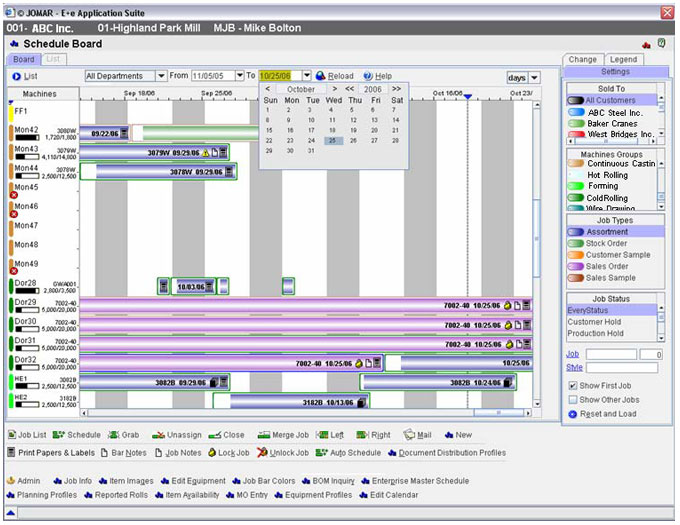 JOMAR's Visual Schedule Board links customer-purchase-work orders to inventory availability, work-in-process and machine schedules to provide real-time information for production schedulers, customer services, buyers and shippers.
Inventory Control
Inventory availability by SKU, steel coil or sheet, quality, warehouse and service center
Inventory inquiries are designed to support on-line searches by:
Range of gauge, type of steel and form
Available for sale, or held for customer reservation
Allocation to customers and work orders
Multiple units of measure: length, weight and square meters or square feet
Order allocation based on matching heat number of steel coils
Calculations for piece, length and weight based on user defined dimensions
Purchasing, Receiving and Warehouse Management
Product specifications - type of steel, chemical property and heat number as part of purchase order and shipping documentation
Receiving - measuring ID, OD and minimum thickness compared to specifications
Bin Locator System integrated with receiving and picking
Shipping schedule - routing, loading sequence and truck weight balancing
R.F. tracking supported with bar coding documents for picking, packing, staging, master bill of lading and drop shipments across steel center and warehouses
Quality Control Specifications and Tests
User defined test characteristics, parameters, tolerances and templates
Test specifications and results supported by job, product, process, lot, coil, piece and customer or vendor raw material
Test history maintained by version
Test results integrated with event-triggered e-mail notification and document management
Mill test reports and non-conformance reports
Costing
The on-line cost roll-up supports processes across mini steel mills and single and multi-site steel service centers.
Costing by job number and product
Process costing supports: continuous casting, hot and cold rolling, forming, coating,
wire drawing, cutting and slitting
Workflow Management
The Workflow Management includes e-mail notification and event triggered action messages to enhance flow of material across full service supply chain, customer services, purchasing, manufacturing and warehouse locations.
Financials
Financials include the General Ledger, Accounts Receivable, Accounts Payable, Bank Services, budgeting and financial statement generation. Drill-downs are integrated with source transactions across the Enterprise Software application suite. Multicompany Financial Consolidation reporting is provided for domestic business operations and across global business locations at the selected currency.