JOMAR's ERP & Enterprise/Mobile Software Application Suite
JOMAR maintains a flexible IT infrastructure that provides for the efficient roll-out of new software applications deployed across Microsoft Windows/SQL, Linux/Oracle/DB2 and IBM iSeries – DB2 platforms.
JOMAR's ERP and Enterprise/Mobile Software application suite supports:
Automotive release processing
Steel Service Centres
Engineered Performance Materials
Textile Processes for Technical/Industrial Textile, Home Fashions and Apparel
Plastics, Composites, Polymers, Rubber and Chemicals
Manufacturing in single and vertically integrated plants
Visual schedule board
Roll goods processing
Equipment and parts manufacturing
Preventive maintenance repair
---
Microsoft Cloud Computing
JOMAR's ERP and Enterprise/Mobile Software are deployed to the 'Cloud' and our mobile apps provide real-time business information anytime anywhere.
---
ERP, MRPII and APS
ERP and MRPII are integrated with the Forecast, Sales, Master Production Scheduling (MPS), Material Requirements Planning (MRP), Rough-cut Capacity Planning and Finite Capacity Scheduling, Master Assembly Schedules, the Visual Schedule Board, Supply Chain and Subcontractors, Manufacturing Execution, Purchasing, and Inventory/Warehouse Management.
---
Advanced Planning and Scheduling.
APS provides global MPS and MRP runs (with data on a central server) for a single plant and across vertically integrated plants, subcontractors' locations and warehouses in distribution centers.
---
Automotive Release Processing
The ARP module is supported by EDI and tracking of all inbound and outbound material movements. Cumulative ordered, shipped and received quantities are tracked along with raw material and fabrication authorizations as part of the planning process that extends throughout the supply chain.
Shipping schedules for Just-In-Time receipts are generated for vendors utilizing Workflow Management with e-mail notification and event-driven action messages.
Visual Schedule Board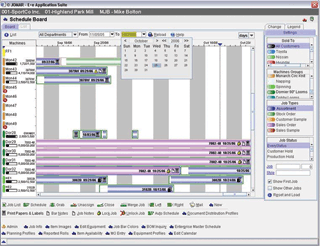 The Schedule Board is integrated with workflow management, customer services, inventory, purchasing, manufacturing and shipping. Workflow management with e-mail notification and event triggered action messages will improve the Supply Chain and the utilization of available production capacity, by enhancing the flow of material and parts across manufacturing processes that also reduces the lead-time required for materials in manufacturing.
The powerful Visual Schedule Board supports multi-level bills of material and vertically integrated processes (or routings). It also links customer-purchase-work orders to inventory availability, work-in-process and machine schedules to provide real-time information for production schedulers, customer services, buyers and shippers.
---
Purchasing and Sub-contracting Services
This software sourcing module provides for on-line P.O. processing and re-order reporting based on MRP – Material Requirement runs. Re-ordering for supply items is based on the report triggered by the approved min/max levels.

Buyers manage the P.O. release report that is produced by the MRP processing run. Tracking purchase order status and shipments from suppliers' and subcontractor's locations is part of the full service supply chain.
Purchasing costs and subcontracted service costs can be allocated to jobs engineering projects, fleet maintenance and capital projects.
---
Inventory Management
Inventory Control provides for the on-line 'Availability Check' by quality of SKU, lot, sets/kits, cartons, pallets and paper, fabric or plastic rolls (by style and colour), steel coil (by heat number) and units by serial number.
Multiple units of measure are provided for length, weight and volume including conversion from metric to imperial measures. Inventory is integrated with MRP, purchasing, customer services, planning and manufacturing.
---
Warehouse Management
A Bin Locator system supported by touch-screen technology is part of Warehouse Management to improve the accuracy and efficiency of the picking process.
Special packaging software functions are integrated with high-rise picking racks.
The 'warehouse release' supports staging of large volume shipments directly to chain stores or other Warehouse and Distribution Centers. This feature also includes 'Truck Load' calculations for drop shipments.
---
EDI
EDI is integrated with customer order, advanced shipping notices, purchasing, automotive release processing and the most commonly used shipping protocol requirements for chain stores.
---
Costing
Costing data is available by product, process, plant and job. The on-line cost roll-up supports processing of cost data based on the bill of material, shop routings and or process sheet in a single plant, and vertically integrated plants. The Costing System also provides for job cost and Preventive Maintenance/Repair Costs.
---
QC Specifications and Tests
The QC specifications and a range of tests are provided for Engineered Performance Materials used in body armor, bullet proof vests and suits for protection from chemicals, fire and ice or cold water. Tests are also available for process and parts manufacturing.
Traceability and test history is provided by SKU, lot, fabric-plastic-paper rolls and raw materials.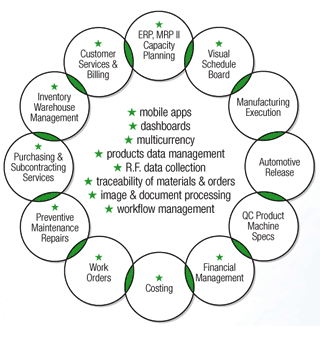 (

) Selected modules of the ERP and Enterprise/Mobile Software Application Suite are also available for the Smart Grid Utility Management Systems.
---
Our 'Gateway Technology' and Web Services integrate JOMAR's:
ERP and Enterprise/Mobile Software with third party systems such as MS Dynamics.
Smart Grid Utility Management Systems with third party CIS, GIS and SCADA.
Manufacturing Execution System
MES includes forward and backward scheduling of orders and lots, shop floor tracking with touch screens and barcoded work orders, yield analysis and production reporting. 'Backflushing' at selected cost centres or processes is available to maintain integrity of inventory levels. MES is integrated with:
ERP, MRPII, APS, Rough-cut Capacity Planning, Master Production Scheduling and Master Assembly Scheduling
Visual Schedule Board and automatic work order rescheduling
Customer order processing, shipping and billing
Inventory, purchasing and warehouse management
PDM-Product Data Management
Tracking order and shipping status including inventory levels at subcontractors' locations to improve full service supply chain
Workflow Management with action triggered messages or e-mail notification
Product, machine, lab and engineering specifications
QC tests and test history by SKU, lot, roll goods, steel coil and plastic sheets, etc.
---
Product Data Management
PDM provides information for product design and development, suppliers, sub-contractors, engineering, manufacturing and quality control. On-line access to the PDM database is provided for product data, images, sketches, drawings, bills of material, routings, engineering change notices, recipes, dye, chemical and other process formulations and product/machine/lab specifications. QC tests and test history are also available by SKU, lot, roll and steel coils (heat number).
---
Product Configurator
The Product Configurator allows for the selection of product features and product options based on engineering and customer product specifications integrated with the PDM data base.
---
Customer Order Management
Customer Services has complete order visibility from booking, through manufacturing to picking, packing, shipping and invoicing. Customer Order Management provides for on-line order processing and integration of quotations, forecasting, sales, ERP, inventory control, purchasing and warehouse management. Large invoicing runs are integrated with Warehouse Management.
---
Multicurrency
Customer and purchase order processing, invoicing and financial transactions are supported by multicurrency.
---
Financial Software Applications
JOMAR's Financials complement the ERP and Enterprise/Mobile Software that supports the industry and the utility sectors. The Financial modules include:
General Ledger
Accounts Receivable
Accounts Payable
Bank Services
Budgeting
Financial Statement Generation
Drill-downs are integrated with source transactions across the ERP and Enterprise/ Mobile Software application suite. Multicompany Financial Consolidation Reporting is provided for business operations across global locations at the selected currency.
---
Workflow Management
Email notification and event triggered action messages enhance the flow of goods or material across full service supply chain, purchasing, manufacturing and warehouse locations. Workflow Management improves the Supply Chain and the resource utilization in Manufacturing.
---
RF Data Collection
Touch-screens and hand-held (wireless) devices are integrated Barcoded documents for scanning material and goods in manufacturing facilities and warehouse locations.
---
Traceability
Tracking is provided from raw material to finished goods by SKU, lot, roll goods and steel coil (by heat number) including for in-transit shipments from suppliers and subcontractors to manufacturing plants and across warehouse locations.
Complete Traceability is a requirement for military contracts, in the automotive sector and a range of other industries.
---
Image Processing
Online viewing is provided for product images, sketches, drawings, catalog product displays, assemblies and analysis of quality problems.
---
Document Processing
Scanning and on-line retrieval of documents provides for electronic documents that can also be appended to important customer, vendor, product, engineering, service, accounting and legal documents. Storage of documents on computers also reduce physical storage space requirements.